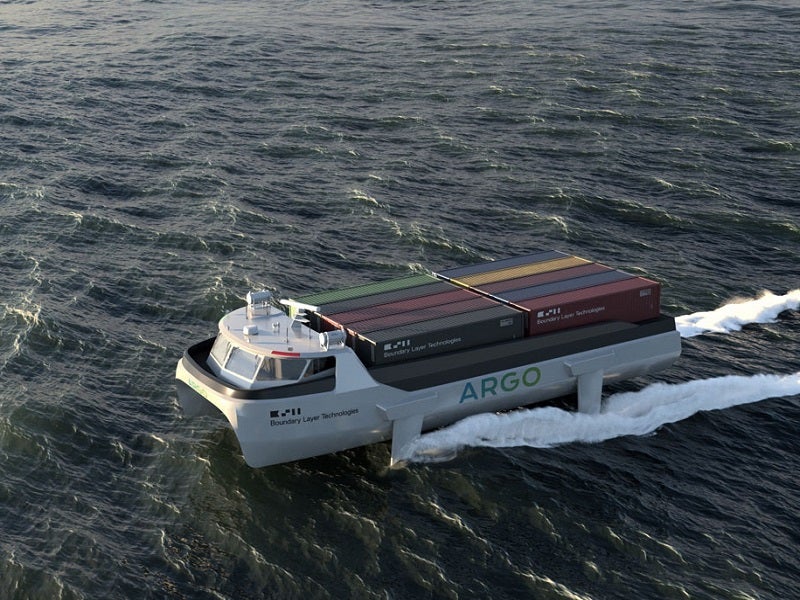 California-based marine technology startup Boundary Layer Technologies has unveiled its operational strategies and engineering design for a zero-emissions hydrofoiling containership, which will be known as Argo.
The aim is to develop a zero-emission shipping service that can be used in place of air freight along key intra-Asia trade lanes.
With a gross payload capacity of 200t, the Argo vessel will operate at a cruise speed of 40k.
According to Boundary Layer Technologies, this performance would allow door-to-door transit times just 15 to 24 hours slower than air freight and at half the expense.
The vessel will be powered by green hydrogen, as well as fuel cells that will be kept in a liquid state inside its two hulls.
At 110ft long and with a 20 twenty-foot equivalent unit (TEU) capacity, Argo will deploy hydrofoil technology.
In a statement, Boundary Layer Technologies said: "A hydrofoil is a submerged wing device used to lift the hull from the water to reduce drag. The company has already completed development of key pieces of Argo's technology stack, and is on track to perform full-scale subsystem tests by the end of 2023."
In comparison with a conventional ship, this vessel will use a fraction of the fuel required to travel at the same high speed.
At present, the firm is looking for launch partners for an intra-Asia Argo service that would begin in Q3 2024.
This route would facilitate the transportation of finished goods and components for electronic manufacturers in the region.
In the future, the firm intends to introduce a larger vessel on a transpacific service.
For this, Boundary Layer Technologies has already signed a $180m letter of intent with Flexport, a digital freight forwarder.