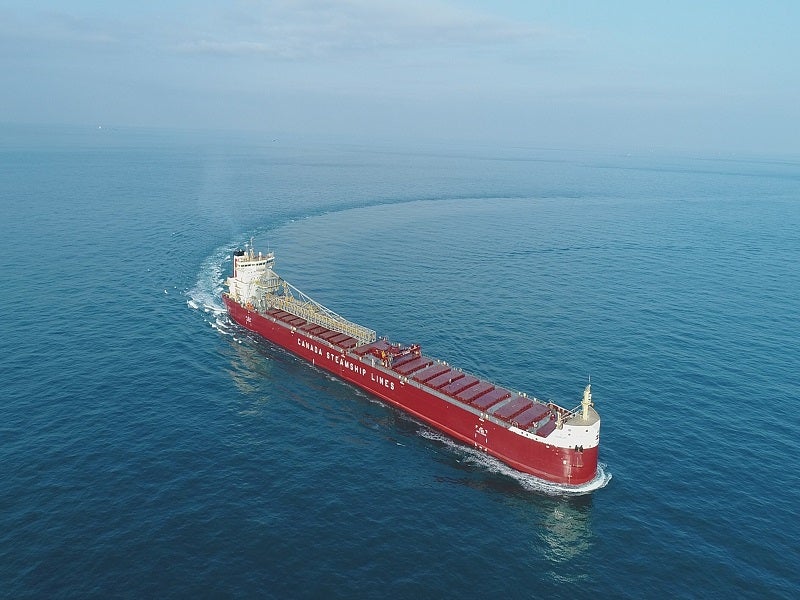 Canada Steamship Lines (CSL), a unit of The CSL Group, has seen its new purpose-designed, self-unloading ship, M/V Nukumi, embark on its first voyage.
Under its maiden journey, the new ship will sail from Jiangyin, China, to Halifax, Canada, in about six weeks.
The ship has been developed to provide services to Windsor Salt.
With a deadweight of 26,000 metric tonnes, it is said to be the first diesel-electric Laker as well as the first single-point loader to sail in Canada.
It is equipped with quieter machinery as well as a single point of loading solution, shuttle boom and 'unique' hull design that will enhance energy efficiency and cut down CO₂ emissions.
The ship also features diesel-electric Tier 3 engines and a ballast water treatment system.
Furthermore, it is projected that M/V Nukumi will emit nearly 25% less greenhouse gas emissions and 80% less harmful air pollutants when compared to the former ship operating on the same salt courses.
The vessel will load deicing salt at the Windsor Salt Mines Seleine mine in the Magdalen Islands region.
It will supply this cargo to stockpiles throughout Eastern Canada, allowing roadways to operate safely during the winter season.
Last February, Windsor Salt and CSL signed a strategic partnership to construct a new 'cutting-edge' self-unloading ship.
Following several years of combined planning, the companies started constructing the custom-made vessel in August 2020.
The firms conducted an environmental impact analysis, ship and shore personnel safety reviews, an efficiency evaluation of cargo operations, and navigational optimisation together.
M/V Nukumi is expected to offer a safe and sustainable shipping solution to regions that depend on the Mines Seleine salt mine.