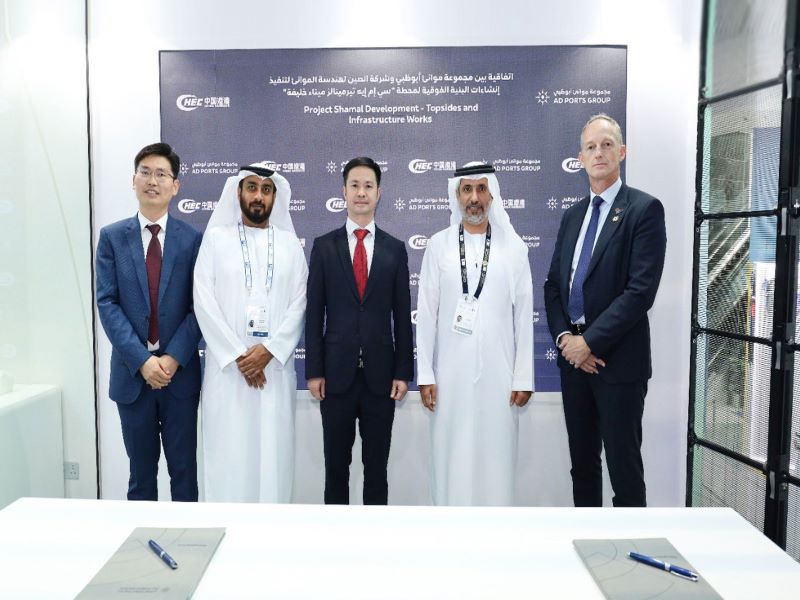 China Harbour Engineering has signed a contract with AD Ports Group to undertake the development of buildings and topside infrastructure for CMA Terminals Khalifa Port in the United Arab Emirates (UAE).
CMA CGM's subsidiary CMA Terminals has a 70% stake in the port while the remaining 30% interest is owned by AD Ports Group.
The deal is said to enable the construction of the first net zero carbon administration building at the port, which will be in line with AD Ports Group's role as an official partner of the World Green Building Council's Middle East & North Africa Regional Network.
Along with more than one million square metres of yard paving, reefer stacks, ship-to-shore (STS) cranes and access roads, the project will also include the building of 28 offices and utilities across the terminal.
The new terminal is expected to begin operations in the first half of 2025.
Upon completion, CMA Terminals Khalifa Port will feature an initial capacity of 1.8 million twenty-foot equivalent units (TEUs).
The terminal will be fully incorporated with Etihad Rail, which will significantly improve Khalifa Port's connectivity.
AD Ports Group ports cluster CEO Saif Al Mazrouei said: "We are making positive progress on the development of CMA Terminals Khalifa Port, which will be one of the most modern and innovative terminals in the region upon completion.
"Under the guidance of our wise leadership, we are incorporating sustainability principles into our construction plan, with the development of our first net zero administration building."