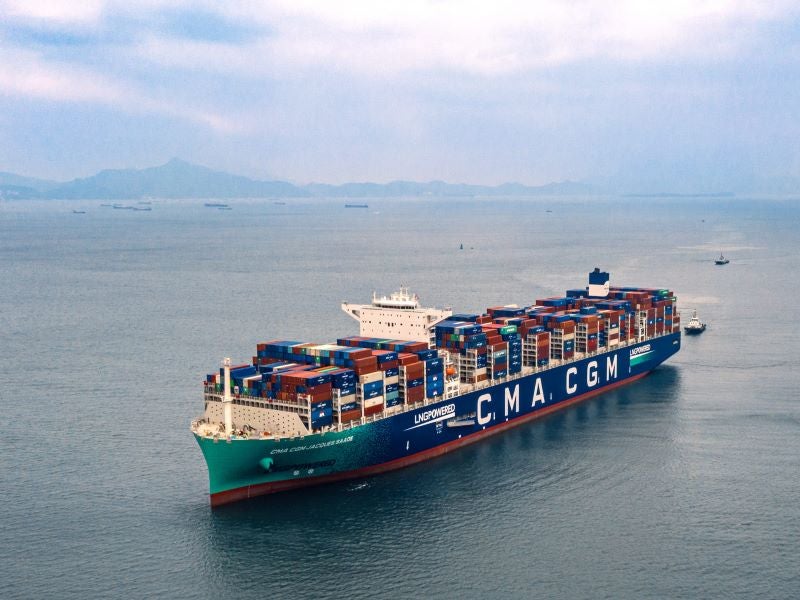 French shipping company CMA CGM has announced the creation of a $1.5bn Special Fund for Energies to bolster its energy transition in the shipping, inland and logistics sectors.
The five-year investment plan is also anticipated to help the company achieve its net-zero carbon target by 2050. 
The firm will use the funding for the industrial production of new fuels and low-emission mobility solutions across its business base, including maritime, overland and air freight shipping, port and logistics services, and offices.
It will use the funding to advance industrial-scale production facilities for biofuels, biomethane, e-methane, carbon-free methanol and other alternative fuels, as well as secure the volumes necessary for its requirements.
The company will also work with other key industrial groups with expertise in these technologies, or with investment funds or start-ups in this regard.
Furthermore, the funding will be used to speed up the decarbonisation of port terminals, warehouses and truck fleets.
Operating more than 700 warehouses and around 50 port terminals across the world, CMA CGM Group aims to make its facilities energy self-sufficient through the production of carbon-free power.
CEVA Logistics, a subsidiary of CMA CGM, intends to meet all its electricity needs through carbon-free power generation in the next three years.
CMA CGM will also use the funding to support the development of projects, prototypes and trials.
Since 2020, the firm has been working with Energy Observer to use hydrogen as an energy source. Under the Energy Observer 2 project, the two entities are working on a prototype intra-regional container ship powered by liquid hydrogen.
It also intends to purchase an interest in a prototype sail-powered cargo ship, called Neoline, which is expected to enter service on transatlantic routes by the end of 2024.
The firm will also support SeaOrbiter, a prototype marine research vessel and floating oceanographic laboratory.
SeaOrbiter has been designed by French architect Jacques Rougerie.
Furthermore, the firm will provide funding to create an energy management plan to cut down energy use and diversify its energy mix.
CMA CGM Group chairman and CEO Rodolphe Saadé said: "This fund will enable us to make substantial investments in innovative projects to decarbonise our business."