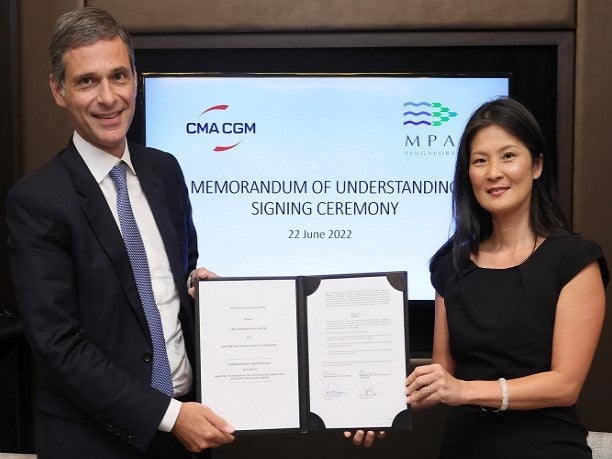 The Maritime and Port Authority (MPA) of Singapore has joined forces with CMA CGM Group to develop maritime decarbonisation, digitalisation and innovative solutions.
Under the memorandum of understanding (MoU) signed in this regard, the duo will study the use of zero and low-carbon marine fuels, including e-methanol, e-methane and biofuels, for commercial shipping applications.
They will also research carbon capture solutions.
Furthermore, the MoU will support the exploration of maritime cybersecurity and just-in-time shipping, accomplished through data exchanges and reporting for port and cargo documentation.
The partnership will also focus on innovations, such as shipboard automation and smarter solutions on board ships.
Both parties will also invest in Singapore-based incubators and accelerators to support marine tech startups in the city-state.
As part of its 2050 net-zero target, CMA CGM placed an order for ten dual-fuel LNG-powered vessels and six dual-fuel methanol-powered vessels.
Designed to run on e-methane, three of these ships will carry the Singapore flag.
Currently, CMA CGM Group has 29 e-methane-ready vessels. It is expected to have a total of 77 e-methane-ready vessels by the end of 2026.
CMA CGM Group chairman and CEO Rodolphe Saadé said: "Decarbonisation, digitalisation and innovation are strategic priorities for CMA CGM and the entire shipping industry. Given Singapore's key position in our global network, I am very pleased to sign this partnership with the MPA.
"It will allow us to address the challenges ahead and strengthen our existing strong ties with Singapore, its industries and its digital ecosystem while reflecting our attachment to this country."
Last month, CMA CGM signed an MoU with PSA Corporation to implement new digital solutions to reduce carbon emissions.