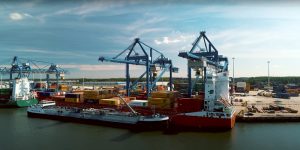 French container shipping firm CMA CGM has collaborated with Shell to complete the first bio-liquefied natural gas (LNG) bunkering trial at the Rotterdam Short Sea Terminals (RST) in the Netherlands.
Shell bunkered a 1,400 twenty-foot equivalent unit (TEU) LNG-driven ship, named Containerships Aurora, with around 10% low carbon bio-LNG mix while calling at the terminal.
During the bunkering operation, which was done by the barge LNG London by means of a ship-to-ship transfer, the ship was filled with 483m³ of LNG, of which 44m³ were bio-LNG.
Meanwhile, Containerships Aurora performed cargo operations at the same time to maintain schedule integrity.
Compared to very low sulphur fuel oils (VLSFO), Shell's bio-LNG offering, along with the CMA CGM-developed dual-fuel gas engine technology, has the capacity to lower emissions by at least 67%.
Bio-LNG is generated from agricultural as well as industrial food waste and has showcased the future prospects of the bio-LNG supply chain, stated CMA CGM.
The company's dual-fuel gas ships, which run on LNG and biomethane, possess the technical capability to utilise e-methane as well.
As of now, CMA CGM's 'e-methane ready' fleet includes 20 vessels and will grow to 44 ships by the end of 2024.
During this year, the group facilitated the production of 25,000t of biomethane to back Shell in enhancing its production capacity to further push its availability to a wider market.
Shell global downstream LNG general manager Tahir Faruqui said: "Shell believes LNG is the first integral step to decarbonise the shipping sector. LNG offers immediate emissions reduction and has the potential to become a net-zero emission marine fuel given the possible roles of bio-LNG and synthetic LNG."
In September, CMA CGM was hit by a cyberattack that compromised limited customer data. The firm also faced a ransomware attack earlier in the year.