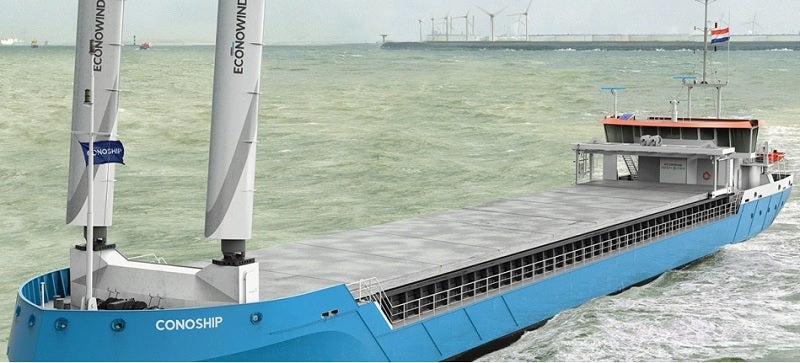 Conoship International Projects (Cip) has commenced construction work on the first next-generation short-sea shipping vessel at Gelibolu Shipyard in Turkey.
The new 3600tdw diesel-electric general cargo vessel is said to be environmentally friendly and ideal for sea-river operations.
According to the company, the new vessel can be considered the new standard for low-air draught sea-river coasters.
It includes a diesel-electric propulsion system, an enlarged propeller along with a ConoDuctTail, and optimised hull lines to improve the vessel's performance.
The vessel will be nearly 289ft long and have a 180,000ft³ capacity, reported The Maritime Executive.
CIP stated that the vessel is designed for wind-assisted propulsion and prepared for the Econowind VentiFoils placement.
Based on the sailing route, this is expected to lower and reduce approximately 10% of fuel consumption and CO₂ emissions per year.
CIP director Maarten Sickler said: "We are very proud to contribute with these ultra-fuel-efficient cargo vessels to the zero-emissions target set by the International Maritime Organization (IMO) for 2050."
The new vessel's EEDI, as calculated for a diesel-driven vessel, is already less than Phase 3 needs.
CIP managing director Jan Jaap Nieuwenhuis said: "For example, take off the generators and replace them with a methanol power generator set and then put in methanol tanks as well, or take them off completely and put on liquid hydrogen tanks and fuel cells.
"All these redesign possibilities were taken into account from the beginning of the conceptual design process."
The first cargo vessel is anticipated to be delivered next year, with two more 3,600dwt diesel-electric vessels to be built by Dutch shipbuilding company Holland Shipyards Group.
The construction of five other cargo vessels is scheduled for 2024 at Holland Shipyards Group in the Netherlands.
Additionally, CIP is working on several ship variants, including a 3,800tdw and 5,800tdw version.
The design concept of the 5,800tdw version is currently under development.