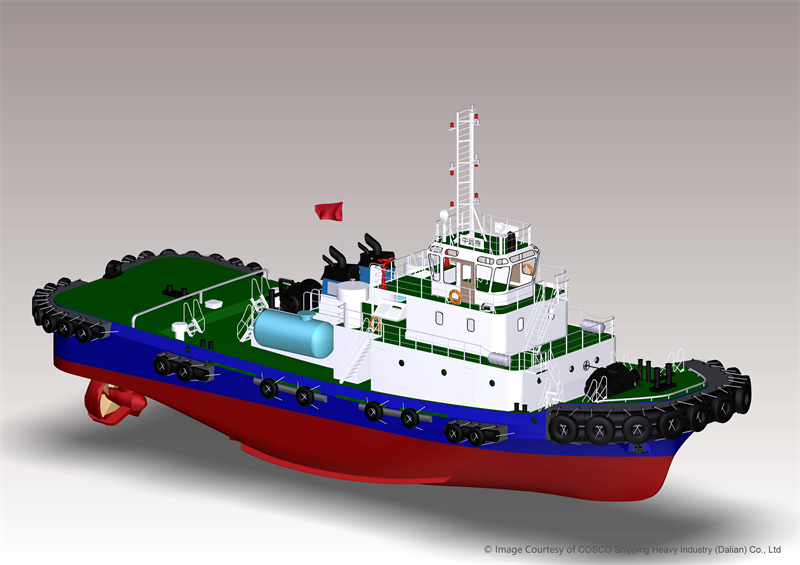 Cosco Shipping Heavy Industry and Cosco Shipping Heavy Industry Technology have received approvals in principle (AIPs) from the American Bureau of Shipping (ABS) for the designs of their ammonia-driven vessel and ammonia supply system.
The two designs are currently being tested on a tugboat.
With a towing capacity of up to 60 tons, the tugboat is 36m long. In order to deliver ammonia for propulsion, the supply system is being installed on the vessel.
To address the safety and reliability of the systems, ABS carried out a comprehensive review and risk evaluation focused on ammonia filling, storage, supply, ventilation and emergency handling during the AIP process.
ABS global sustainability vice-president Georgios Plevrakis said: "These are exciting developments for COSCO Shipping and China shipbuilding to show leadership in the decarbonisation of our industry. Ammonia offers shipowners and operators a zero-carbon, tank-to-wake emissions profile."
"Yet, we also recognise that ammonia presents a specific set of safety and technology challenges, and ABS is committed to leading the industry in supporting its safe adoption at sea."
Additionally, ABS granted AiP for a next-generation regasification system (Hi-ReGAS+) that is designed to use natural circulation for floating storage regasification units (FSRUs) and floating liquefied natural gas (LNG) terminals.
Korea Shipbuilding & Offshore Engineering (KSOE), the intermediate holding company of Hyundai Heavy Industries Group, and Hyundai Heavy Industries (HHI) developed this technology, which is a follow-on model to HHI Group's Hi-ReGAS system.