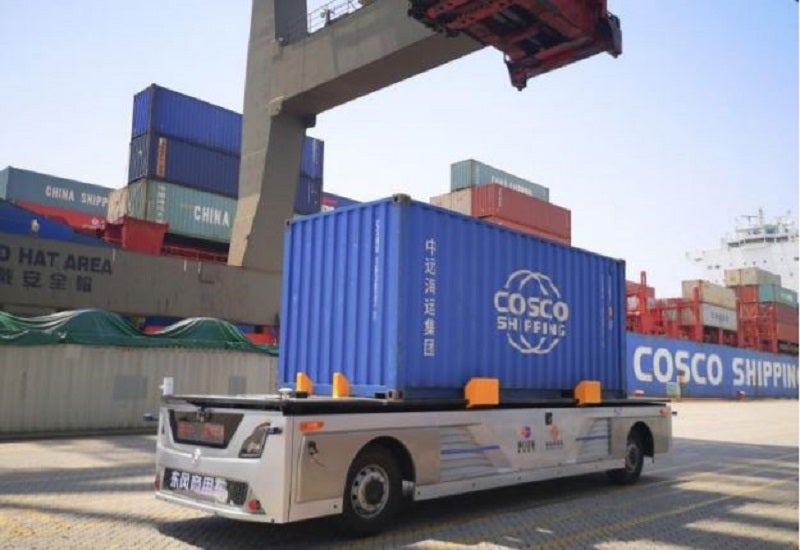 China Ocean Shipping Company (COSCO) subsidiary Cosco Shipping Ports has completed a 5G-enabled, automated vehicle trial at China's Port of Xiamen.
The trial was carried out together with China Mobile and Dongfeng Commercial Vehicle on 11 May.
For the trial, an automated driverless truck was used to deliver the containers for loading the vessel named COSCO Shipping Rose next to the shore bridge No. 102. The truck also collected the containers that were unloaded under the shore bridge No. 101 from the vessel.
The truck drove to the Jingyi Road from the front of the wharf, automatically avoiding obstacles on the road to enter the F1 yard.
In addition, it also completed different operations, which included accurate positioning with the tire crane and unloading, completing the ship loading and unloading operation smoothly.
CSP and its partners held a 5G Driverless Enabled Smart Ports video conference that was broadcasted to Shanghai, Hong Kong, Beijing, Wuhan, Shiyan and Xiamen.
During the conference, the companies signed a Letter of Intent to extend the application at 5G+ smart port and offered an 'implementation plan for domestic and international smart ports'.
They also issued a joint enterprise standard of Performance And Test Methods For Driverless Truck For Containers In The Ports.
In a statement, CSP said: "The three parties of the cooperation actively responded to the development strategy of National Strength in Transportation by expanding Smart+ to enable the transformation and upgrading of the manufacturing industry, which further promoted the in-depth integration of 5G technology and the construction of smart ports.
"The research results presented at this conference provided an implementation plan for domestic and international 5G smart ports, which was a concrete action to accelerate the implementation of Broadband China and National Strength in Transportation strategies and to promote the construction of new infrastructure."