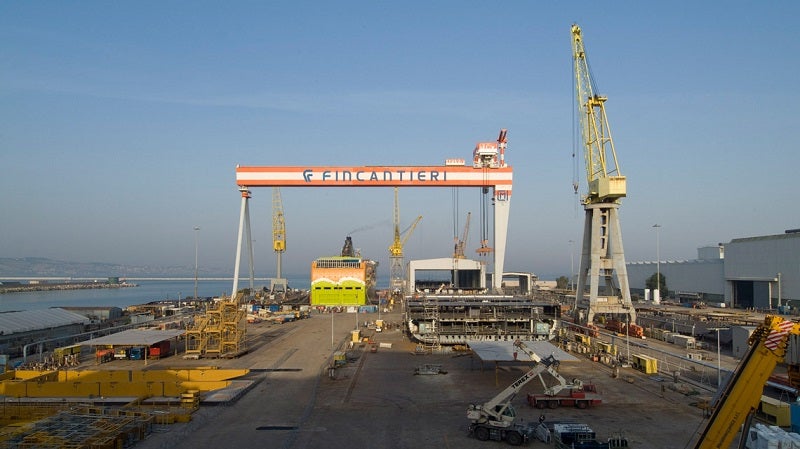 ---
Visit our Covid-19 microsite for the latest coronavirus news, analysis and updates
---
Follow the latest updates of the outbreak on our timeline
---
Italian shipbuilding company Fincantieri has extended the suspension of operations at its facilities in the country due to the coronavirus (Covid-19) pandemic.
The suspension is expected to until the date decided, according to the decree adopted on 22 March by the President of the Council of Ministers.
Earlier this month, Fincantieri suspended operations at its facilities in the country for two weeks from 16 to 29 March.
The company's announcement comes after Italian authorities reported 662 new deaths in the country, bringing the death toll to 8,165. Italy has 80,539 confirmed Covid-19 cases so far.
Fincantieri has also signed an agreement with representatives of the Trade Unions FIM – FIOM – UILM to resume the production after the end of the suspension.
According to the agreement, Fincantieri will implement the Ordinary Redundancy Fund for Covid-19 Emergency for all the employees effective from 30 March until the end of the suspension of operations.
Employees can also choose to use the accrued holidays / paid annual leave (PAL) instead of the Ordinary Redundancy Fund after the approval of their request.
The company added that the maintenance and safety activities along with the essential servicing of plants and facilities will be carried out during this period in addition to the managerial and management activities that are required by the company.
In a statement, Fincantieri said: "In order to comply with the current product plan, the agreement sets forth that upon resuming the production activity, there will be no annual summer stoppage.
"Individual accrued holidays will be authorised as scheduled at every worksite after taking into consideration relevant technical and production needs."
Earlier this week, Norway-based shipping company Wallenius Wilhelmsen implemented precautionary measures to protect their operations during the Covid-19 pandemic.