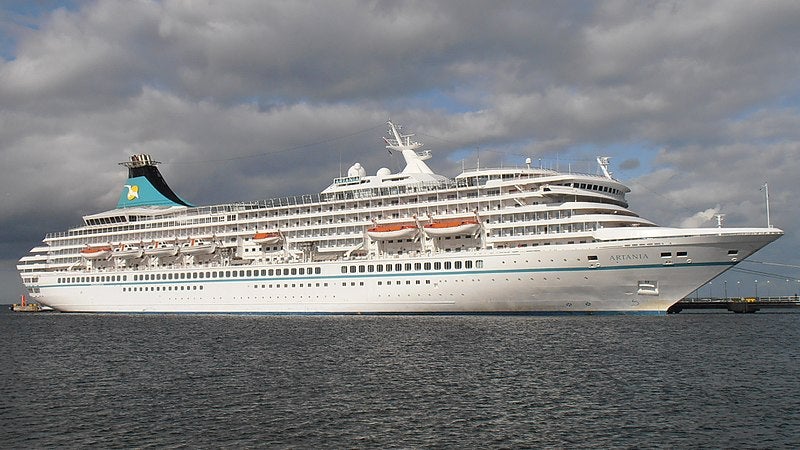 German cruise ship MV Artania has refused to leave Western Australian (WA) waters after the confirmation of Covid-19 cases onboard.
The Australian Border Force (ABF) has ordered the cruise ship to leave Fremantle.
On 29 March, many of the passengers were repatriated and sent home. However, approximately 450 people, mostly crew members, are still on board. 12 of them are reported to be unwell to fly.
The remaining people have requested permission to dock at the port for another two weeks. This is expected to help them ensure that there are no Covid-19 cases on the ship.
There were reported 40 infected passengers and crew members from Artania and all of them are in the hospitals in WA.
Western Australia Premier Mark McGowan has requested the Australian Government to intervene and send the ship off Australian waters.
McGowan said: "If the ship needs to be cleaned, clean it and then get it on its way."
He added that the people from the cruise ship could overwhelm the state's health system if allowed to dock.
ABF commissioner Michael Outram said: Today, there are 12 crew who are being tested for Covid-19 because they have been reported to be feeling flu-like symptoms and they, as well as any crew being in contact with them, have been isolated.
"And so once those results, those 12 crew are known, we will manage that accordingly. But what I would say is this, that last night, an expert, Dr Armstrong from WA Health, or yesterday, went on board the vessel and he has provided a report to me and others about what can happen here.
"And the doctor on the vessel, the ship's master and Dr Armstrong all agreed that the crew can be appropriately quarantined on the vessel. We do not need to bring them all off. There is a lot of room on that vessel."