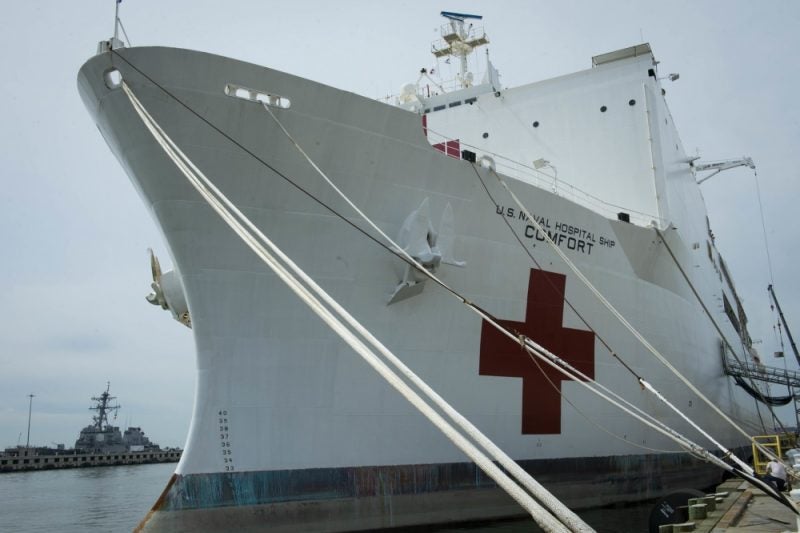 ---
Visit our Covid-19 microsite for the latest coronavirus news, analysis and updates
---
Follow the latest updates of the outbreak on our timeline.
---
The cruise terminal of Port of Manhattan in New York has started preparations to receive the USNS Comfort, a hospital ship for treating patients.
The ship will be berthed at the Manhattan Cruise Terminal's Pier 90.
The ship will be used to treat trauma and other emergent cases. This is expected to free up additional resources at civilian hospitals to handle Covid-19 patients.
New York City Economic Development Corporation spokesperson Chris Singleton said: "A number of city agencies, including New York City Economic Development Corporation and the Office of Emergency Management, have been dredging the berth at Manhattan Cruise Terminal's Pier 90, where the USNS Comfort will dock, to ensure there is sufficient depth in the slip."
The dredging work was conducted with the Army Corps of Engineers.
The cruise terminal is dredged regularly as it receives approximately 180 ships a year so would only require a little additional dredging for the USNS Comfort hospital ship.
In the ship's departure ceremony in Virginia, US President Donald Trump said: "We are marshalling the full power of the American nation, economic, scientific, medical and military, to vanquish the virus.
"I am here to express my profound gratitude to the dedicated service members who will soon be on the front lines of this fight."
The ship features 12 operating rooms, hospital beds, a medical laboratory, a pharmacy, an optometry lab and digital radiology.
It is also equipped with a CAT scan, two oxygen-producing plants and a helicopter deck.
Another hospital ship, USNS Mercy, has reached Los Angeles and has started accepting patients.
Earlier this month, Carnival Corporation offered some of its cruise ships to be used as temporary hospitals during the pandemic.