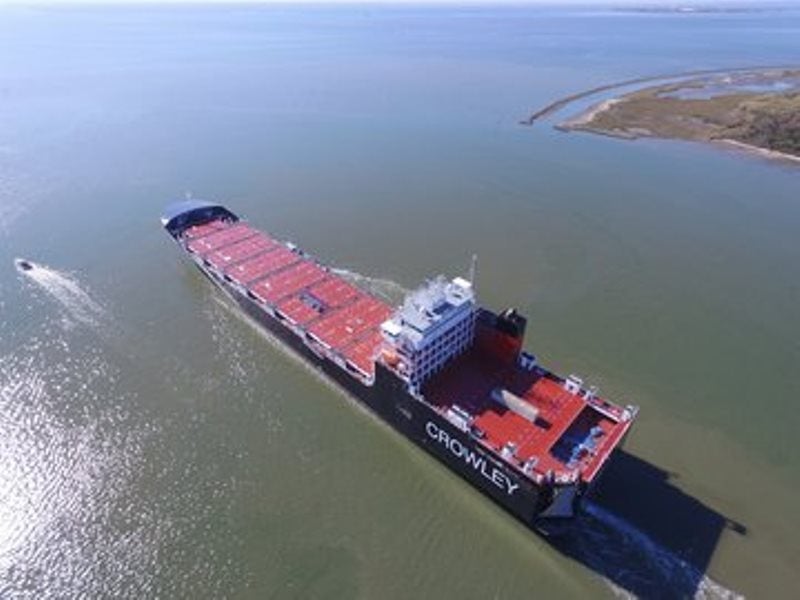 Crowley Maritime has received its second combination container/roll on-roll off (ConRo) ship powered by liquefied natural gas (LNG) from US-based shipbuilder VT Halter Marine.
The new vessel, Taíno, is set to join its sister ship El Coquí, which was delivered in July.
Taíno will be operated by Crowley's global ship management group and will serve the route between Jacksonville in Florida, US, and San Juan, Puerto Rico.
The vessel is expected to begin its first voyage to San Juan on 8 January from its dedicated port in Jacksonville, US.
Crowley Maritime chairman and CEO Tom Crowley said: "From a business standpoint, Taíno and El Coquí are key components of our integrated logistics offerings that are bringing speed to market and creating a competitive advantage for our customers in Puerto Rico and the Caribbean.
"With our own vessels and proprietary transportation and distribution network, we're reducing friction and complexity while increasing the velocity of customers' goods moving to market and reducing their landed costs."
"We're reducing friction and complexity while increasing the velocity of customers' goods."
Delivery of Taíno represents the conclusion of Crowley's $550m investment in the two new Commitment Class ships and related port upgrades.
Both the ships and upgraded port facilities have improved Crowley's Puerto Rico supply chain services.
Both Taíno and El Coquí are 720ft long and are specifically built for the Puerto Rico trade.
The 26,500dwt vessels are designed to carry up to 2,400 twenty-foot-equivalent container units (TEUs) at 22k of speed.
The vessels can accommodate a variety of container sizes and types such as 53ft 102in-wide, high-capacity containers, up to 300 refrigerated containers, as well as a combination of nearly 400 cars and larger vehicles in the Ro/Ro decks.