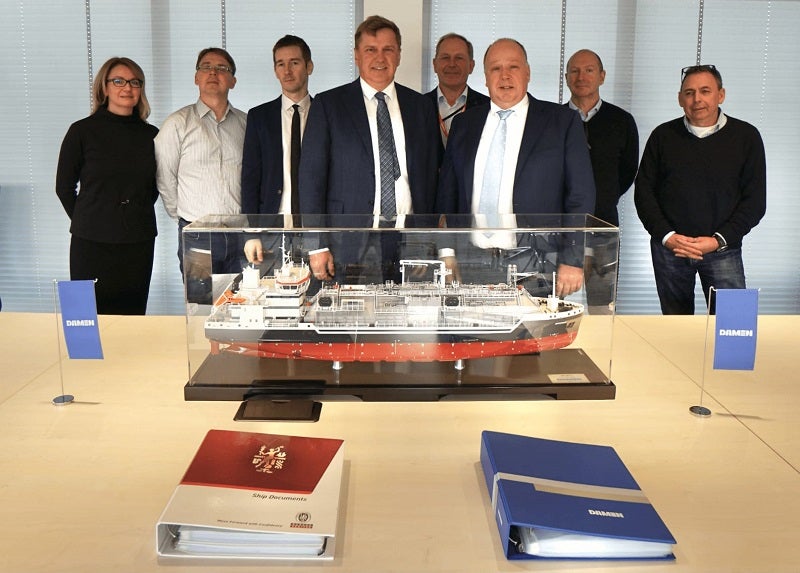 Damen has delivered the first of its new class of liquified gas carrier (LGC) 6000 liquefied natural gas (LNG) bunkering ships, Optimus, to Estonia-based energy firm Elenger.
Delivered in the port of Rotterdam, the 100m-long Optimus is said to be the first LNG bunkering vessel in the Gulf of Finland, which will serve LNG-driven vessels as well as smaller shoreside clients.
The ship can transport up to 6,000m³ of LNG in two type-C tanks at -163°C.
Constructed at Damen Shipyards Yichang, Optimus finished its gas trials in Damen Verolme Rotterdam shipyard before being sent to its owner Infortar for charter by Elenger.
The design of the vessel meets the norms of ICE class 1A certification and green ship notation.
Optimus features a dual fuel propulsion system for handling the boil-off gas (BOG), along with a gas boiler system.
The LGC range has been created to support quick and secure bunkering operations in all-weather settings both in port and offshore.
It comprises dual propeller lines and an 'efficient' hull design for better in-harbour operations.
Furthermore, Optimus is equipped with a new cargo handling system and redundant manifold arrangements for flexible fuel transfers in line with the highest industry requirements.
In a statement, Damen said: "With this first LNG bunkering vessel, Elenger has significantly expanded its LNG distribution business in the Baltic region. The company has been supplying one of the leading regional ferry companies, Tallink Group, for the past five years, refuelling its LNG-fuelled RoPax ferry Megastar using multiple specialist trucks."
The Megastar is set to become 'one of the first beneficiaries' following the arrival of Optimus.
In spring next year, Tallink's new 212m-long LNG-powered RoPax ferry, MyStar, will also benefit from the new LGC vessel.
The construction of Optimus was backed by the EU Connecting Europe Facility funding programme and co-financed by Finland-based OP Financial Group.
Earlier this month, Damen Shipyards Group completed sea trials of its first Fast Crew Supplier 7011 vessel off the Turkish coast.