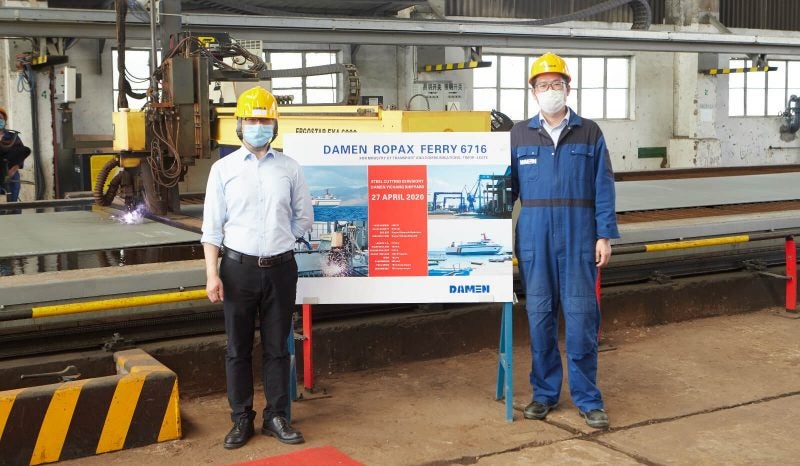 Damen Yichang Shipyard in China has held a digital steel cutting ceremony for a Damen roll-on / roll-off passenger (RoPax) Ferry 6716 for the Timor-Leste Government.
Due to the ongoing global Covid-19 pandemic, Damen could not invite its clients and guests for the event.
Damen sales manager Gysbert Boersma said: "During the coronavirus crisis, our first priority is for peoples' safety and wellbeing.
"We do, however, still like to mark these important milestones so we do so in a safety-conscious manner, with the aid of digital communications. The steel cutting was a great success, we certainly still managed to make it a special event."
The event was attended by the Government of Timor-Leste representatives and Damen employees in China and the Netherlands.
The 67m x 16m vessel will be able to accommodate approximately 308 passengers along with goods and vehicles.
The vessel will operate on the route between Dili, capital of Timor-Leste, the Oecusse enclave and the Ataúro island.
The vessel is funded by the governments of Germany and Timor-Leste and is expected to start operations next year.
The ferry is expected to introduce new commerce, education and employment opportunities in Timor-Leste.
Damen Yichang Shipyard is continuing its production during the Covid-19 pandemic with the implementation of robust safety measures to safeguard the safety of personnel, their families and the community.
In May last year, Damen Yichang Shipyard held a keel-laying ceremony for a liquefied natural gas (LNG) bunker vessel for the new energy brand Elenger, previously known as Eesti Gaas.