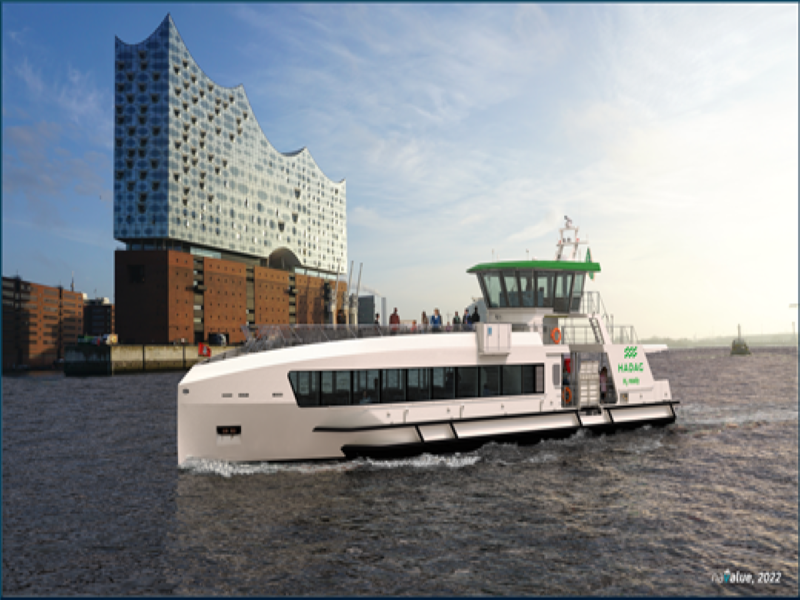 Danfoss Power Solutions' Editron division has been selected to supply drivetrain systems for three hybrid public ferries.
German shipyard Schiffbau- und Entwicklungsgesellschaft Tangermünde (SET) will construct the new vessels for transportation company Hadag.
With the addition of the new ferries, which will operate on the Elbe River in Hamburg, Hadag will expand its fleet to 29 ships.
The new vessels will have serial hybrid propulsion systems, including drivetrains designed and produced by Editron.
The drivetrain integrates shore connection, battery storage, propulsion and AC network feeding power modules. All these elements are connected by a compact DC link with patented selectivity to ensure high system safety.
Editron's synchronous reluctance-assisted permanent magnet generator connected to a Scania Diesel engine establishes a variable speed genset and delivers energy for charging batteries or to serve as a backup for propulsion.
Two electric eVSP9 Voith Schneider Thrusters transform the electric energy into efficient thrust along with high manoeuvrability.
To support zero-emission operation, the vessels can also be integrated with hydrogen fuel cell technology.
With the capacity to carry up to 250 passengers, the first ferry is anticipated to be delivered to Hadag in 2024.
The other two vessels are expected to be delivered later in the same year.
Furthermore, Hadag has an option to order an additional three public ferries with fuel cell technology. The system can also be retrofitted onto the city's existing fleet of passenger ferries.
Danfoss' Edition division marine sales manager Sascha Nitz said: "Our drivetrain is one of the most compact and lightweight solutions on today's market, easily fitting into a vessel's machinery room and enabling more space for passengers.
"The high efficiency of our system also optimises battery capacity on board to fit the desired operational profile."