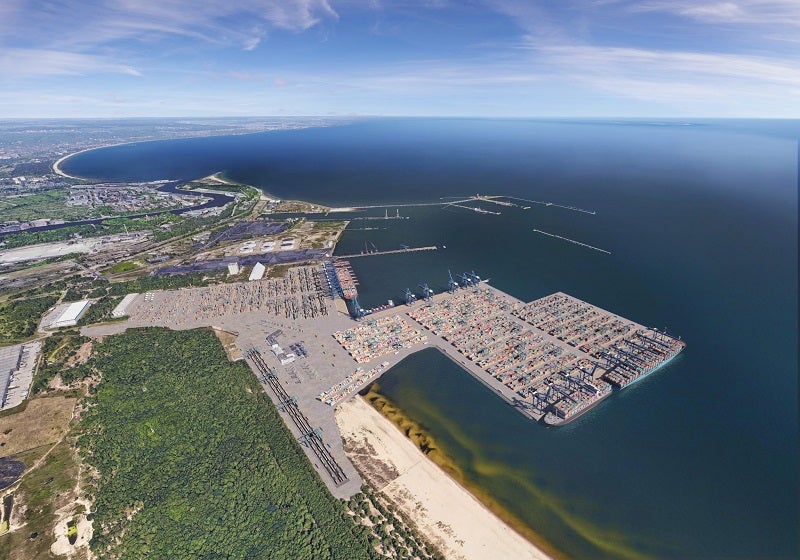 Poland's DCT Gdańsk has secured the lease for a new container hub at the Port of Gdańsk on the Baltic Sea.
Last September, the Port of Gdańsk Authority launched a tender for selecting the lessees for a new port area to be established within the Port's boundaries in the Gdańsk Bay.
Through the construction of Baltic Hub 3, the new terminal, a third deep-water quay situated at the new port area will be formed.
With an investment of $530.54m (€450m), the new terminal is expected to raise DCT Gdańsk's handling capacity by 1.5 million twenty-foot equivalent units (TEUs) to 4.5 million TEUs.
The 717m-long third deep-water quay will feature a depth of 18m, along with the construction of a 36ha yard.
Under the Baltic Hub 3 project, around seven quay cranes and 20 semi-automated rail mounted gantry cranes for the container yard will be procured.
These will be controlled remotely and will have the capacity to manage the world's largest vessels.
With the construction slated to begin in Q2 2022, the new terminal is expected to commence operations by mid-2024.
Poland Deputy Minister of Infrastructure Marek Gróbarczyk said: "Over the last five years, we have placed great emphasis on improving the access infrastructure to Polish seaports, renovating and building new quays, and deepening fairways.
"Today, the Port of Gdańsk can handle the largest container ships in the world. Thanks to the expansion of the DCT terminal, the Port of Gdańsk will maintain its leading position among the ports in the Baltic Sea."
DCT Gdańsk CEO Charles Baker said: "The construction of the third quay of our Baltic Hub Terminal marks the opening of a new era in container handling on the Baltic Sea.
"Baltic Hub Terminal 3 will greatly enhance our service offerings to our customers and is a significant boost to attracting new services or shipping alliances, as well as supporting the growth of Poland and surrounding economies."
DCT Gdańsk is said to be the biggest container terminal on the Baltic Sea.
Currently, it consists of two deep-water quays, with a total capacity of three million TEUs.