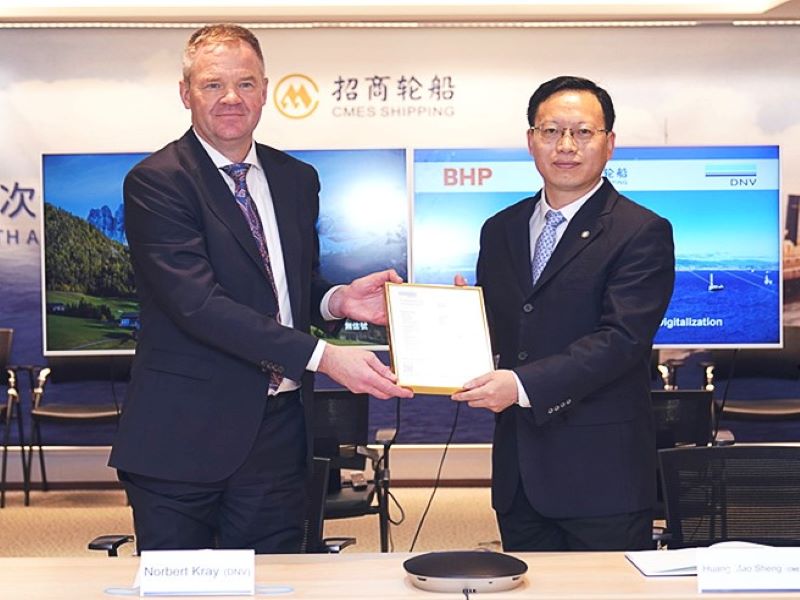 China Merchants Energy Shipping (CMES), BHP, and DNV have reached a memorandum of understanding (MoU) for voyage data exchange with the purpose of cutting emissions in the maritime sector.
This is aimed at improving industry value chain greenhouse gas (GHG) management.
The MoU is expected to help establish close coordination between the ship owner and the charterer to attain further energy efficiencies and GHG savings.
It can be achieved through improved voyage data collection, verification, and sharing through DNV's Veracity data platform in partnership with the industry partners' digital management systems.
As a result of stringent environmental rules and significant GHG savings expectations from cargo owners and financiers, shipowners are focusing on lowering GHG emissions from their operations.
Under the first joint pilot project, the trio will exchange and analyse quality-assured data from selected ships and voyages.
As part of the pilot project, DNV has issued the first-ever Voyage GHG Verification Statement to create the 'trusted common source of data truth' that can be utilised in different existing or future business scenarios.
These scenarios include Scope 1 (ship owners) and Scope 3 (charterers) emissions reporting, carbon trading and taxation settlement, GHG emissions compliance and improvement, as well as fuel usage and GHG emissions reductions.
Through the exchange of data and insights, shipowners and charterers are expected to cut operational emissions by up to 15%, stated DNV.
DNV maritime CEO Knut Ørbeck-Nilssen said: "Digitalisation is an enabler for decarbonisation, and collaboration is the true fuel of the future.
"Therefore, we are delighted to be part of this industry-first project with major maritime players CMES and BHP, which aims to jointly drive the reduction of greenhouse gases in shipping and in the ecosystem at large."