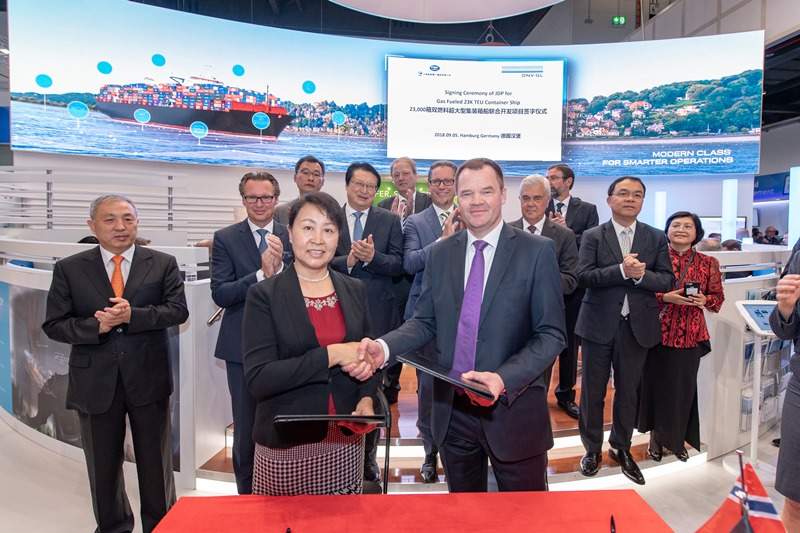 Classification society DNV GL has signed a joint development project (JDP) agreement with China's Dalian Shipbuilding Industry Company (DSIC) to develop an ultra-large container vessel (ULCV).
The 23,000 twenty-foot equivalent unit (TEU) vessel will be powered by liquefied natural gas (LNG).
Under the JDP, both parties will work together to design the ULCV that can be built in line with new regulations and future market trends.
Development of the vessel that will use alternative fuel is driven by upcoming environmental regulations which aim to reduce emissions from the shipping industry.
Using LNG as fuel can facilitate technical maturity, efficiency, availability, and emissions reduction.
"The exploration aims to increase the amount of crude oil produced in Uganda to support the operations of the refinery, as well as the oil pipeline."
DSIC president Yang Zhi Zhong said: "In developing this new 23,000 TEU LNG fuelled ULCV design, we will show that DSIC can deliver vessels at the cutting edge of the market after two 20,000 TEU container vessels were successfully delivered to COSCO SHIPPING Group this year.
"We see a continuing strong market for ULCV vessels, with lower slot costs especially valued on the main trading routes.
"At the same time the expansion in bunkering infrastructure in both China and Europe means that LNG is becoming a viable solution for container vessels, lowering costs and ensuring compliance with incoming regulations."
DSIC is primarily involved in the fields of offshore engineering, construction, repair and conversion.
DNV GL Maritime CEO Knut Ørbeck-Nilssen said: "The new JDP will build on the long and productive cooperation between DSIC and DNV GL, and we look forward to working with DSIC to ensure that the design meets the relevant class and international standards and regulations."
In a separate development, DNV GL, Cargill and Rainmaking have launched the second stage of CO2 Challenge, which intends to identify and scale technologies that can cut vessel greenhouse gas emissions by 10%.