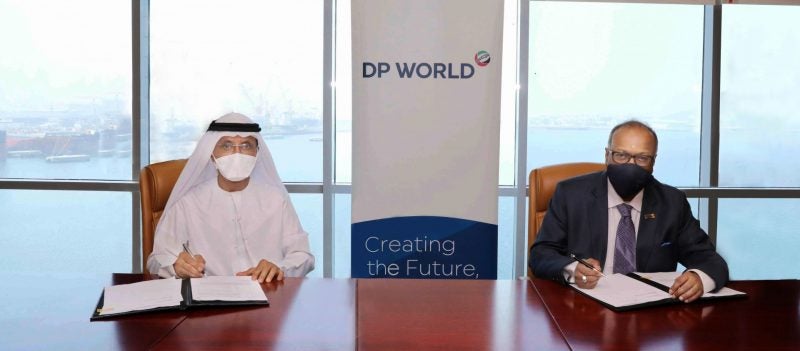 DP World subsidiary Unifeeder has acquired feeder and regional trade operators from Dubai-based Transworld Group to serve the fast-growing markets.
Completed via the Unifeeder ISC (Indian Subcontinent) platform, the subsidiary purchase Transworld Feeders FZCO, Avana Logistek and Transworld Feeders for an undisclosed sum. The deal also includes Avana's subsidiary, Avana Global FZCO.
The completion of the transaction is subject to approvals from regulatory authorities.
Transworld Feeders is the 'containerised Indian coastal and EXIM feeder shipping operations of Shreyas Shipping and Logistics', which excludes vessels and bulk operations.
Last month, DP World was in talks to acquire Shreyas Shipping and Logistics and Avana Global Logistek.
In August 2018, DP World signed an agreement to acquire Denmark-based port-related logistics solutions provider Unifeeder Group for €660m ($762.6m).
Transworld Feeders FZCO and Avana Global FZCO are independent line companies and non-shipping common carrier (NVOCC) operators. They offer container lines and regional trade solutions services that link different ports in the Middle East, the Indian subcontinent and the Far East.
Transworld Feeders and Avana Logistek hold a comprehensive coverage of all major ports, terminals and inland destinations in India.
Avana Logistek also offers the first and last-mile delivery solutions in the domestic market in India. Both companies provide logistic solutions to cargo owners, traders, forwarders and shipping lines.
Transworld Feeders and Avana handle approximately 1.2 million twenty-foot equivalent units (TEU) yearly.
With the acquisitions, Unifeeder will have the capability to provide regional trade connectivity and feedering in Northern Europe, Mediterranean, Northern Africa, Middle East, Indian subcontinent and Asia.
Transworld Group and Shreyas Shipping and Logistics chairman Ramesh Ramakrishnan said: "Our strength lies in our strong customer relationships, local expertise and network across the Indian subcontinent, which have allowed us to deliver an efficient product to the market.
"The acquisition of three of our portfolio companies will provide DP World and Unifeeder ISC a robust platform to jointly deliver a more complete range of solutions to our customers.
"We are excited to be part of the DP World family and look forward to building on our continued legacy as a globally renowned independent shipping and logistics conglomerate. We look forward to our partnership and a prosperous future together."
In June, DP World completed the acquisition of a 51% share in TIS Container Terminal in the Port of Yuzhny in Ukraine.