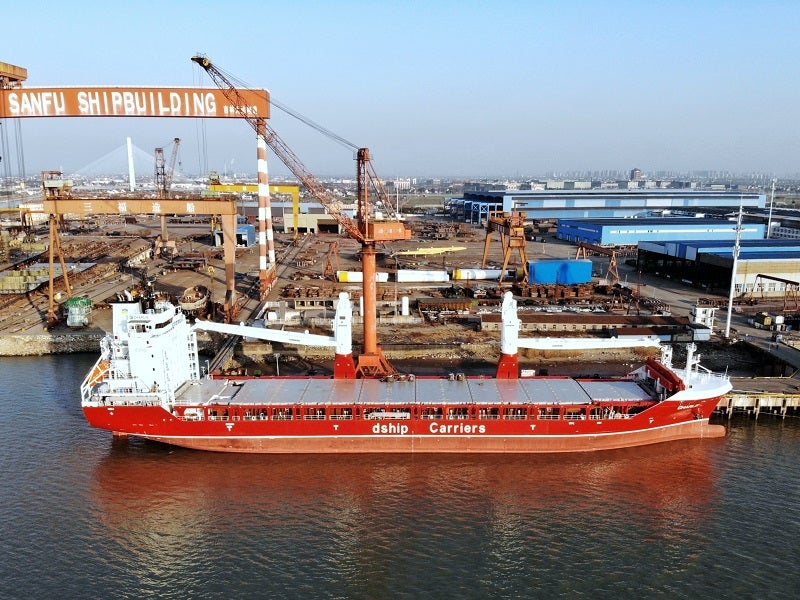 Singapore-based dship Carriers has taken delivery of MV Charlie, the last of four new-generation eco-friendly F-500 vessel type newbuilds.
The new ship is expected to expand the company's capabilities in the multi-purpose heavy lift sector.
In 2018, dship ordered four green F-500 multi-purpose heavy lift vessels, MV Mick, MV Keith, MV Ronnie and MV Charlie.
These vessels were ordered under dship's fleet expansion programme, which aimed to support global decarbonisation.
All four ships have been designed to cut down fuel consumption and incorporate better stowage flexibility.
With a deadweight of 12,385 metric tons (mt), MV Charlie is loaded with two Liebherr cranes, which offer a lifting capacity of 250mt each.
The ship also includes a Becker Mewis Duct and Becker Rudder, two consumption lowering devices that use energy-saving technology.
These devices include two elements mounted on the ship in front of the propeller and an integrated fin solution.
dship Carriers global vice-president Lars Feller said: "dship Carriers is committed to helping achieve the goals of the Paris Agreement, our newbuild F-500 vessels are one more step towards this. We look forward to seeing the MV Charlie in action and wish the crew all the best and good luck."
At present, the dship fleet includes several multi-purpose, heavy lift, tween deck vessels that have around 12,500dwt and a total crane capacity of up to 500mt.