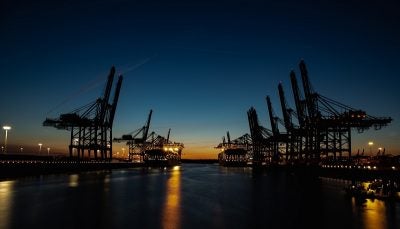 The European Bank for Reconstruction and Development (EBRD), along with the International Finance Corporation (IFC), has extended support to overhaul Ukraine's Chornomorsk Port on the north-western shore of the Black Sea.
EBRD and IFC will back the Ministry of Infrastructure of Ukraine and the Ukrainian Sea Ports Authority in tendering a public-private partnership (PPP) for the port's modernisation.
Along with private sector-led investment, this upgrade is expected to improve the country's import and export capacity and thereby, its trade competitiveness.
The Ukrainian Government will receive support from EBRD and IFC to draft a comprehensive contractual framework, set bidding criteria and tender rules, and interact with potential investors.
Ukrainian Minister of Infrastructure Oleksandr Kubrakov said: "In Ukraine, container transport has great potential for development, as it currently accounts for only 8.5% of the total volume.
"After finding an investor for the Chornomorsk Port and modernising the container terminal, it should be possible to almost double its capacity. This will be a powerful stimulus for the development of the region's economy and increase the competitiveness of Ukraine as an infrastructure hub."
The Chornomorsk container terminal plus the railway-ferry complex concession will aid in the modernisation of the terminal's current assets.
It will also optimise its operations as well as develop extra services for cargo owners and carriers.
The enhanced cargo logistics and 'higher-quality' services at the port are projected to attract global shipping operators.
Last year, EBRD, in collaboration with IFC and the Global Infrastructure Facility, worked with Ukraine's Ministry of Infrastructure in structuring concessions for two mid-sized Black Sea ports, namely the ports of Kherson and Olvia.
Over the last two years, EBRD has invested nearly $2.33bn (€2bn) in the economy of Ukraine.