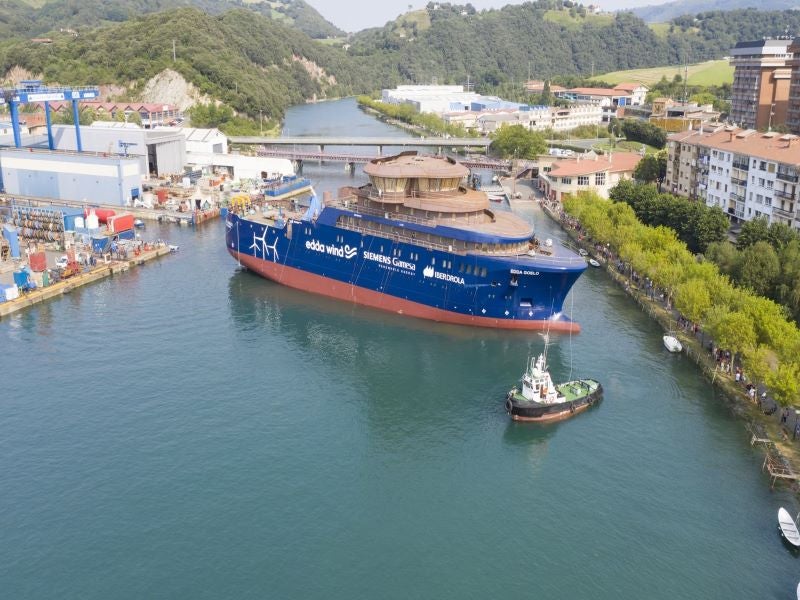 Norway-based Edda Wind has announced the launch of its new service operation vessel (SOV), named Edda Goelo (C416), at Astilleros Balenciaga shipyard in Spain.
As part of a five-year contract with Siemens Gamesa, the new vessel will begin operations at Iberdrola's offshore wind farm in Saint-Brieuc Bay, France, in the third quarter of 2023.
Located off the coast of France, the Saint Brieuc wind farm will feature 62 SG 8.0-167 DD turbines and be capable of generating 496MW of clean electricity.
Edda Goelo will act as a 'mother vessel' for wind turbines technicians as they carry out maintenance work on offshore wind turbines.
The vessel will be able to carry up to 40 maintenance technicians from Siemens Gamesa and Iberdrola, as well as around 20 crew members from Edda Wind.
Upon completion of maintenance activities, the vessel will bring technicians back to shore and carry another team out to work at the wind farm for the next two weeks.
Edda Wind CEO Kenneth Walland said: "We are very pleased with launching our second SOV, built by Astilleros Balenciaga, and to successfully witness Edda Wind's second launch this year.
"Once again, we deliver on our ambitions for the company and the industry as a whole."
Along with the Edda Passat and Edda Mistral vessels, which were delivered in 2018, and Edda Breeze, delivered in May, Edda Wind's newbuild programme consists of a further eight vessels.
The first SOV in the programme, Edda Brint, is scheduled to be delivered by Balenciaga in August.