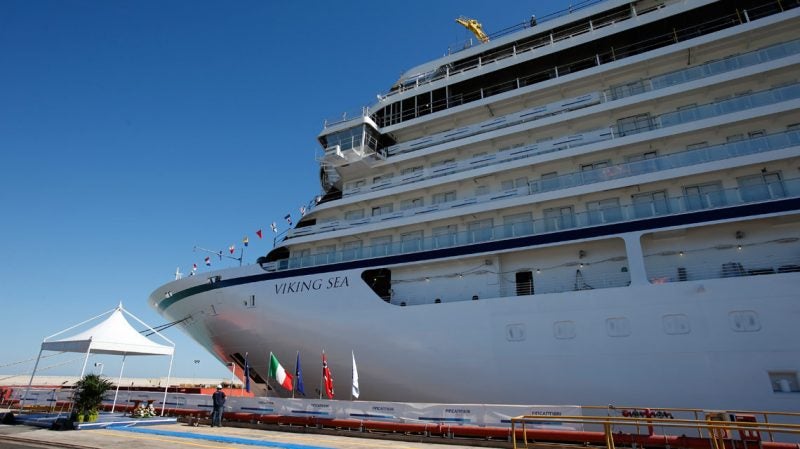 Italian shipbuilding company Fincantieri has announced that the seventh Viking cruise ship Viking Venus was floated out at the Ancona shipyard on 11 June.
This marks the completion of a major milestone during construction and the first instance when a ship enters the water.
The shipyard will now conduct work for the interior fittings. The vessel is expected to be delivered next year.
It will commence its maiden voyages in the Mediterranean and in Northern Europe.
The ship is the seventh ship of the twenty that Fincantieri is building for Viking Cruises.
The ship has a gross tonnage of 47,800t and can accommodate 930 passengers in 465 cabins.
The ships adhere to the latest navigation regulations and feature modern safety systems such as the 'Safe return to port'.
They are also equipped with energy-efficient engines, optimised hydrodynamics and hull, which reduces consumption, along with systems that reduce pollution.
Viking chairman Torstein Hagen said: "We started Viking's ocean project eight years ago, and together with Fincantieri, we have built the world's most beautiful ships. Today, we are pleased to celebrate this important milestone in the construction of our seventh ocean ship.
"As the world continues its path to recovery from Covid-19, we remain focused on the future, and with strong bookings for 2021 and the enthusiasm of our guests, we are optimistic about what is to come."
The partnership between Fincantieri and Viking Cruises began in 2012 when Fincantieri signed a contract to build two super-luxury cruise ships for Viking.
In total, the cruise ship operator has ordered 20 cruise ships from Fincantieri to date. This includes two ships that Fincantieri subsidiary Vard will design and construct for Viking.
This is the largest number of ships that a shipbuilder has constructed for one shipowner.
The first ship delivered was Viking Star, which was built in Marghera shipyard and was delivered in 2015.
Viking Sea, Viking Sky, Viking Sun and Viking Orion were built in the Ancona yard and were delivered in 2016, 2017 and 2018. Viking Jupiter was delivered in February last year.
The remaining ships are expected to be taken to the sea between 2021 and 2027.