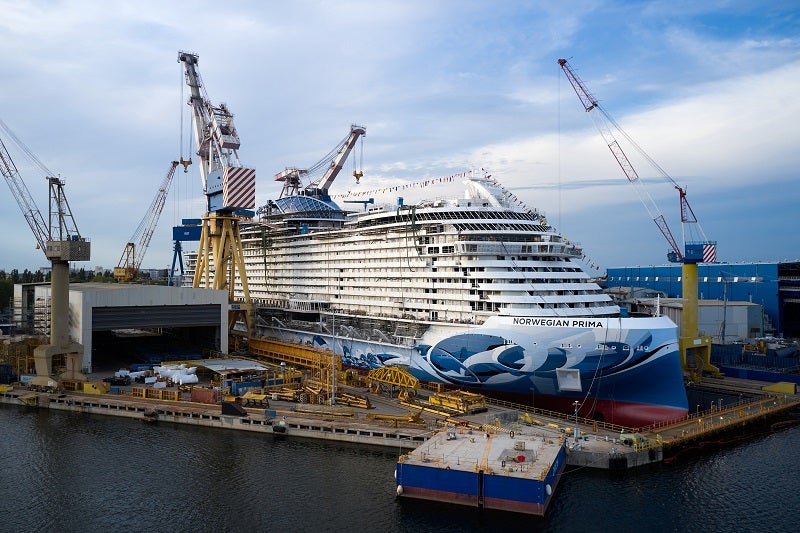 Shipbuilding company Fincantieri has floated out Norwegian Cruise Line's (NCL) new vessel, Norwegian Prima, at its shipyard in Marghera, Italy.
The launch follows the completion of external works and painting to the vessel. The vessel will now undergo interior fittings and works on guest accommodations before it is delivered to the cruise line.
Norwegian Prima is scheduled to commence services next year.
This 965ft-long vessel is the first of six ships of NCL's Prima Class. The 300m-long lead vessel will have a gross tonnage of 142,500t and will be capable of carrying nearly 3,215 passengers at double occupancy.
NCL president and CEO Harry Sommer said: "A ship's float out is always a significant milestone, but this one is particularly special.
"Our 18th ship, Norwegian Prima represents an exciting new chapter for our brand and the first vessel to be delivered in our groundbreaking new Prima Class. We've worked closely with our partners at Fincantieri to deliver a truly remarkable vessel."
According to the cruise line, Norwegian Prima features wide open spaces, expansive accommodation, as well as 'multiple company firsts'.
The Prima class of vessels is based on a prototype project developed by Fincantieri. In addition to improving the passenger experience, the project focused on energy efficiency, reducing environmental impact and optimising fuel consumption at sea.
Once Norwegian Prima commence commercial services, it will provide 'bucket list' itineraries in northern Europe with voyages from Amsterdam, the Netherlands; and Copenhagen, Denmark.
Subsequently, the vessel will commence a 12-day transatlantic voyage from Southampton to New York.