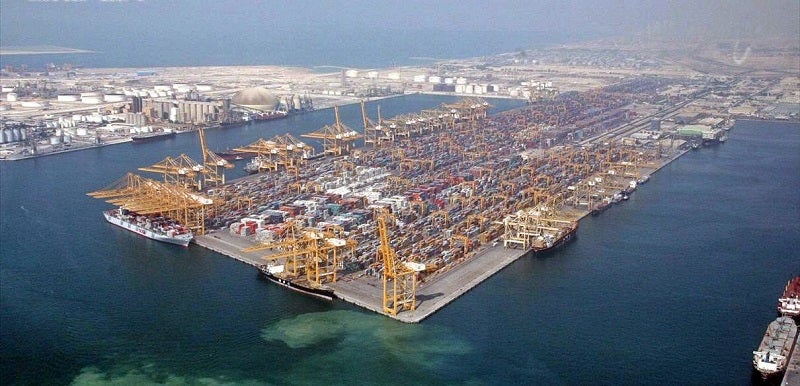 An explosion inside a containership with flammable materials anchored at Jebel Ali Port in the UAE has caused a large fire, with no reported fatalities.
The explosion sent shock waves across the commercial hub of the country, shaking nearby buildings.
According to reports, giant flames engulfed the vessel at Jebel Ali Port, which is located on the eastern side of the Arabian Peninsula.
The vessel had 130 containers, with no explosives or radioactive materials inside, Dubai Police commander-in-chief Lt General Abdullah Al Marri told Gulf News.
On Twitter, Dubai Media Office (DMO) said: 'A fire caused by an explosion within a container onboard a ship at Jebel Ali Port has been brought under control; no casualties have been reported.'
DMO noted that the vessel was preparing to dock at one of the berths 'away from the port's main shipping line'.
The impact of the explosion was felt as far as 25km away from the port.
In a statement, Dubai authorities said that the fire was brought under control by emergency services.
The degree of the damage to the port, as well as nearby cargo, is still unclear and investigations are ongoing to ascertain the cause of the fire. The ship in question has not been identified so far.
Port officials are 'taking all necessary measures to ensure that the normal movement of vessels continues without any disruption', reported Al Jazeera.
Al Arabiya quoted the Dubai government as saying that the crew of the vessel were evacuated in a timely manner.
In 2017, around ten people sustained injuries during the accident at Terminal 1 of Jebel Ali Port, which was reportedly caused by a CMA CGM-operated container vessel colliding with the terminal's harbour wall during berthing.
Managed by the Dubai-based DP World, the Jebel Ali Port has four container terminals, which can berth some of the world's largest vessels.