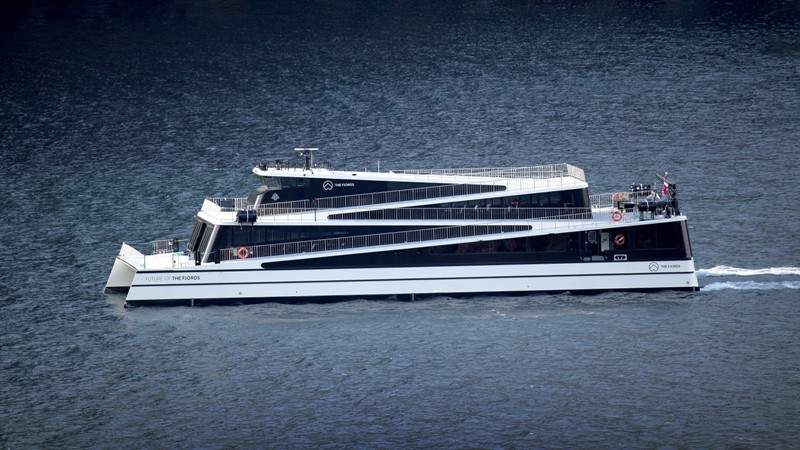 Norwegian operator The Fjords has received an all-electric catamaran, Future of The Fjords, which is set to commence operation next month between Norway's Flåm and Gudvangen.
The sister ship to Vision of The Fjords, which is a diesel-electric hybrid launched in 2016, Future of The Fjords is a 42m-long and 15m-wide carbon fibre vessel capable of carrying 400 passengers.
It is designed to offer a completely emission-free mode of transportation.
Built with an investment of NOK144m ($18m), Future of The Fjords was constructed by Norwegian shipyard Brødrenes.
The vessel is powered by two 450kW electric motors to facilitate cruising speeds of 16k along the 90-minute to and fro journey in the Fjord route in Norway.
It also features the Power Dock, a new charging solution developed by The Fjords in collaboration with Brødrene.
"It is designed to offer a completely emission-free mode of transportation."
This 40m-long and 5m-wide floating glass fibre dock is designed to sit in the water at Gudvangen to house a 2.4MWh battery pack.
The dock allows a steady charging solution throughout the day by connecting the vessel to the local grid network, which does not have the capacity to charge the Future of The Fjords directly. The solution enables the vessel to 'refill' in just 20 minutes.
The Fjords CEO Rolf Sandvik said: "Vision of The Fjords was an important development for us, but we had the ambition to take it one step further and replace the diesel-electric propulsion with all-electric – thus eradicating all noise and emissions to air for the entire route.
"Future of The Fjords does just that, minimising its impact on the environment while maximising the experience of passengers who can now glide silently over the water and come closer to nature than ever before."
The Fjords primarily provides sea-based transport by ferries and passenger vessels.