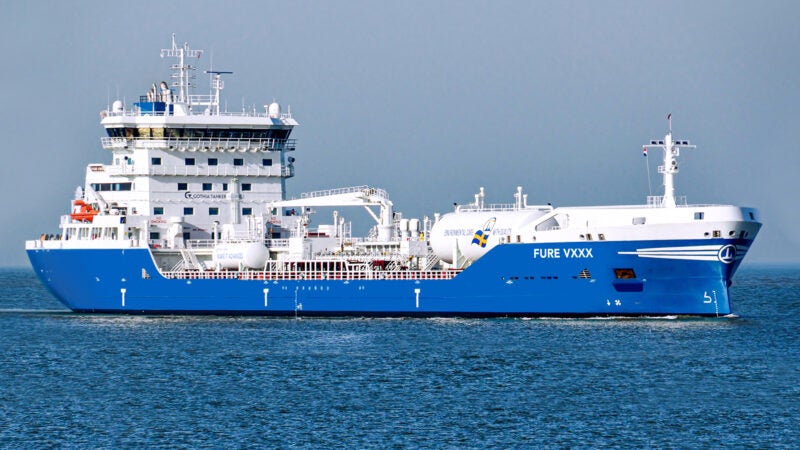 Furetank has signed a contract with China Merchants Jinling Shipyard in Yangzhou (former AVIC) for a new climate-friendly, dual-fuel tanker for a green fleet. 
To be built by China Merchants Jinling Shipyard, the 17,999dwt vessel will be the ninth in the Vinga series of sister vessels, which provide world-leading performance in energy efficiency and climate footprint.
The vessel will be capable of using cargo pumps with 6.6kV high voltage shore power, reducing emissions even further, as soon as ports are able to support the operations.
The tanker has 12 epoxy coated cargo tanks with a capacity of 20,306m³, ice-class 1A rating and effective cargo handling system. 
Safe cargo operations are guaranteed by flexible line arrangements and cargo pumps, which also decrease port-turnaround time.
Furetank CEO Lars Höglund said: "This is yet another step forward on our journey towards a fleet consisting entirely of climate-friendly vessels. Furetank want to be an environmental friendly and leading actor within the segment.
"With this newbuilding we will continue to implement all available technologies to do the best we can – now."
The company anticipates that the ship will be delivered from the shipyard in January 2024. 
The vessel is the most recent addition to the series of Vinga sister vessels, designed to have a low environmental impact. 
Currently, Furetank owns four of these vessels, operating all of them commercially.
The ships are all dual-fuel capable, operating on a combination of liquefied natural gas (LNG) and liquefied biogas (LBG). 
Designed with a battery hybrid solution, the vessels have various characteristics that lower the use of fuel and energy, leading to reduced emissions of CO₂, nitrogen oxide, sulphur oxide and hazardous particles.
The agreement with China Merchants Jinling Shipyard also includes an option to order additional vessels in the future.