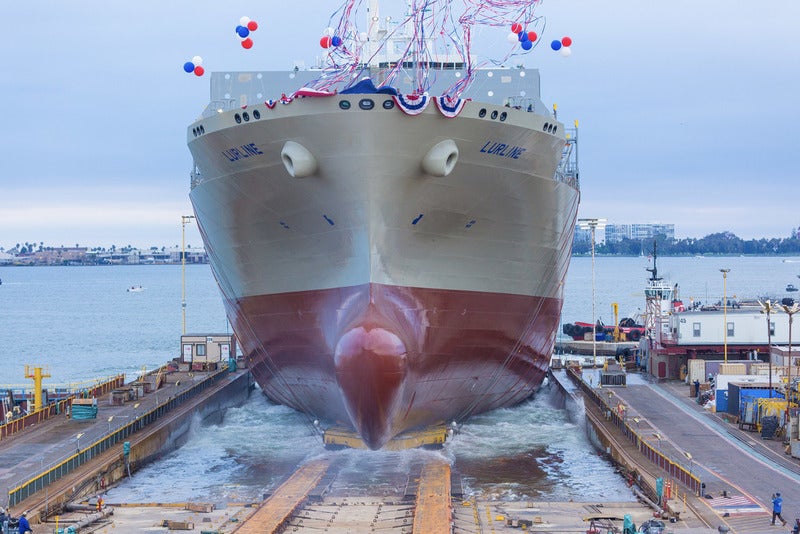 General Dynamics NASSCO has christened and commissioned the container ship, which is claimed to be the largest vessel of its kind ever built in San Diego, US.
Named Lurline, the containership is an 870ft-long, 3,500 twenty-foot equivalent (TEU) unit, weighing 44,200 deadweight metric tonnes. It is a combination of containership/roll-on, roll-off vessel designs.
Built for Honolulu-based shipping company Matson, the ship features liquefied natural gas-capable engines to offer improved energy efficiency.
Lurline is the main ship of a two-vessel contract being constructed for Matson at General Dynamics NASSCO.
The vessel's construction contract was signed in November 2017. It is capable of transporting containers, automobiles and rolling stock, including trailers.
Construction started around 18 months ago in NASSCO's shipyard. The company hired 200 people to start building the ship.
NASSCO teamed up with Daewoo Ship Engineering Company to supply Matson with ship design and shipbuilding technologies.
Signing the contract for first ship, Matson president Ron Forest had said: "These Jones Act-qualified, Kanaloa-class vessels are designed specifically for our Hawaii service, and we're thrilled to partner with NASSCO on their development.
"The start of construction today has only heightened our excitement to watch these vessels come to life, and we look forward to seeing them serving our customers in the Hawaii trade."
Known as Matsonia, the second ship will also be built by General Dynamics NASSCO, along with six other oil tankers. Construction started in April last year, with delivery scheduled for the second quarter of 2020.