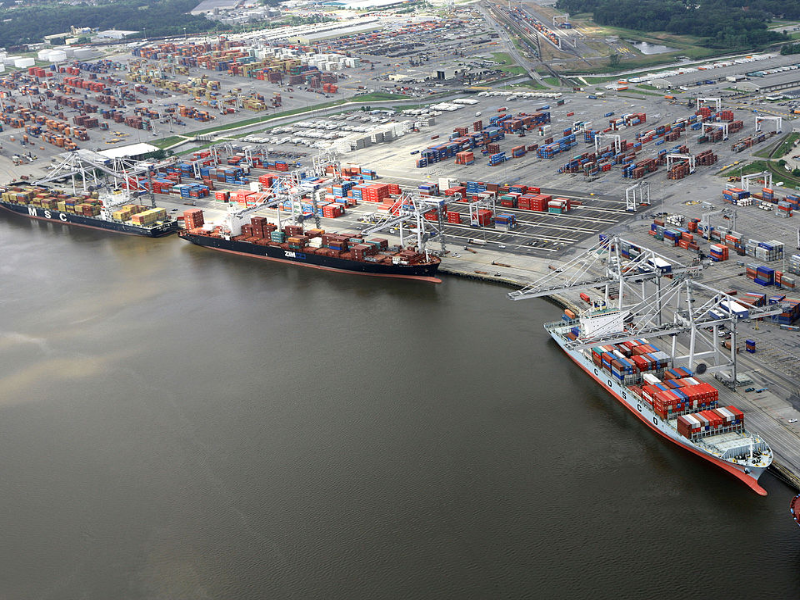 The Georgia Ports Authority (GPA) has revealed plans to establish a new container port on Hutchinson Island across the Savannah River channel to expand the capacity of Savannah port in Georgia, US.
The expansion will double the Port of Savannah's annual capacity from 5.5 million twenty-foot equivalent units (TEUs) to 11 million TEUs.
The new container port will span across a 200-acre area. Located directly across from Ocean Terminal in Savannah, the facility will be able to handle 2.5 million TEUs of cargo annually.
Commenting on the expansion plan, GPA executive director Griff Lynch said: "The market has clearly chosen the Port of Savannah as the south-eastern hub for containerised trade.
"To fulfil the growing responsibility placed on our deepwater terminals, we have developed a plan to double our capacity."
The expansion plan includes the installation of six additional ship-to-shore cranes at Garden City Terminal by next year. Subsequently, the terminal will have a total of 36 cranes.
The Georgia Ports Authority will continue to modernise its fleet of cranes, which will include the installation of 12 new cranes with a lift height of 170ft by 2027.
The port authority is also considering launching a berth realignment project within the next three years. It will create dock space for more 14,000-TEU ships on the downriver end of Garden City Terminal.
The deployment of new cranes and modernised docks along a new Hutchinson Island terminal will considerably boost the Port of Savannah's shipping capacity by 2027.
Georgia Ports Authority board chairman Will McKnight said: "What has set Savannah above the competition is our ability to scale up in advance of market needs so that we are ready when our customers are ready to grow.
"Our terminal infrastructure plan adheres to our investment philosophy of always keeping infrastructure ahead of current demand. This will ensure the GPA is prepared to handle the next wave of cargo expansion."
The authority launched a dual-rail service from the Port of Savannah to Chicago to manage the increasing container trade, crossing Garden City Terminal.
GPA is also considering a $220m expansion of the on-terminal rail infrastructure at the Port of Savannah.