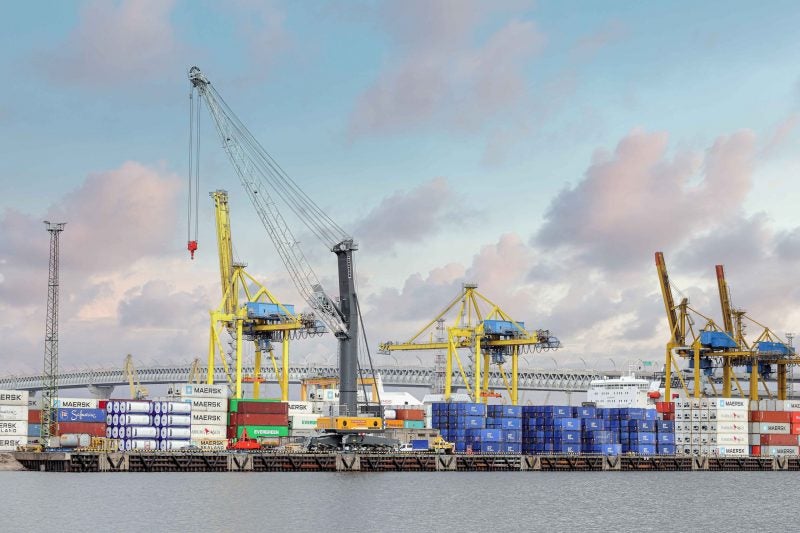 Russia's Global Ports Investments has started using the new Liebherr LHM 550 mobile harbour crane at the Greater Port of Saint Petersburg's Petrolesport terminal (PLP).
The crane is a part of the company's facility development and upgrade programme.
The crane can carry load up to 144t and was manufactured in Rostock, Germany, in the Liebherr's facility.
The crane can operate in hook, crossbeam, spreader and tipping modes and has increased mobility and manoeuvring ability.
The crane features an ergonomic tower crane cab that provides visibility and safe control in all the operating crane movements.
With the new crane, the throughput and the cargo handling efficiency of the terminal is expected to increase along with the optimisation of equipment repair and maintenance costs.
Another crane is expected to arrive between late this year to early next year.
The two cranes can work together and are expected to increase the capabilities in handling heavy, oversized and project cargoes at PLP.
While operating in synchronous mode, the cranes are expected to handle cargoes of up to 270t.
In May last year, West Africa Container Terminal (WACT) located in Onne Port acquired two Mobile Harbor Cranes from Liebherr to support its growing business in the Eastern Nigerian market.
In August 2018, Scotland's Port of Grangemouth received a ship-to-shore (STS) crane from Liebherr, increasing the total number of its STS cranes by 50%.
The addition of the new crane is part of the port's key investment programme to increase its cargo-handling capacity and customer services.