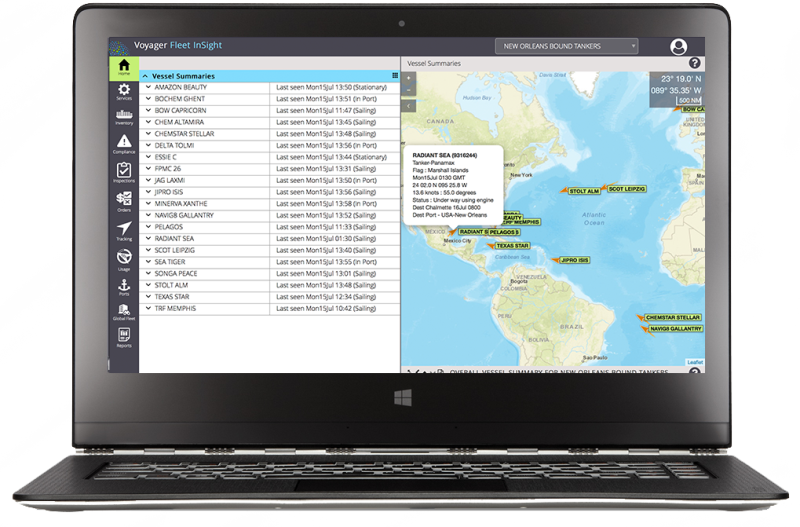 Maritime technology company Global Navigation Solutions (GNS) has launched Voyager Global Fleet, a database comprising more than 120,000 vessels, shipowners, operators and managers.
The new service will enable a wide range of users, including ship suppliers, brokers, agents and charterers, to easily access the data needed to improve their business performance.
Operators and start-ups can use the service to explore new business opportunities; offer personalised, higher-value services; and manage commercial and operational risks.
Voyager Global Fleet builds on the firm's Voyager Fleet Insight platform, which offers fleet-specific data analytics for shipping company customers.
Through a single, easy-to-use web interface, the new service offers data resources, including vessel characteristics, ownership and management, trading history, port calls, sailing hours, PSC inspections, and hourly AIS position and destinations dating back to 2015.
Customers can use the Voyager Global Fleet to filter and search the global fleet of IMO-registered vessels using more than 100 search criteria. They can view results in data tables and spatially on a map, generate customised reports and export data for further analysis.
Organisations will also be able to add their proprietary datasets for private and exclusive use to improve customer knowledge, sales targeting and enhance after-sales service and support.
Ship suppliers can identify and target vessels based on their AIS location and ETA. Hardware suppliers will be able to identify when equipment will need servicing, based on nautical miles sailed and time service calls.
Companies can identify which shipping companies are likely to buy their products or services. Firms that manage compliance-related products and services can link the products and services to vessel characteristics to offer tailored solutions.
The new database will also allow charterers and shippers to identify vessels that match their requirements by type, location and ETA at a specific port.
GNS chief executive Paul Stanley said: "Until now, it has been hard for ship suppliers to get access to the data needed to effectively target their sales and marketing activities and it's also been difficult to optimise service, maintenance and support resources to meet customer needs.
"Our new Voyager Global Fleet service changes that by providing every maritime organisation with the opportunity to use data to drive new growth and efficiencies and unlock new insights."