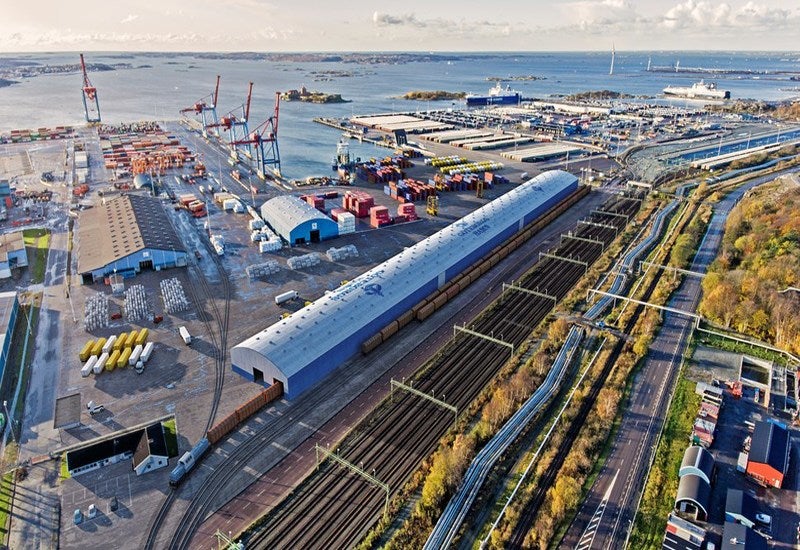 Port of Gothenburg in Sweden has commenced construction of Svea Terminal, a rail-connected cross-docking terminal for forest products.
The terminal will provide weather-protected transloading adjacent to the port's roll-on / roll-off (ro-ro) and container terminals.
Surface preparations are currently under progress at a forthcoming cross-docking terminal.
Export cargo such as paper and carton board, pulp and sawed timber can be moved directly into the terminal for transloading into containers or trailers for onward transport by sea to global markets.
Gothenburg Port also plans to construct a 21,600m² storage tent on the 45,000m² terminal site to support transloading without being exposed to adverse weather conditions.
In addition to the tent, open storage areas and five rail tracks will also be introduced. The track leading into the tent will be a production track while the remaining four will be used as marshalling tracks for the facility.
Gothenburg Port Authority container, ro-ro and rail vice-president Claes Sundmark said: "Once the new terminal is operational, rail-borne freight volumes at the port could increase even further thanks to the expansion in space and transloading capacity that has been added to keep pace with the market demand.
"The new marshalling tracks will also reinforce the port's rail offering as a whole."
Skanska is serving as the contractor for the terminal, which will begin operations in the first half of 2020.