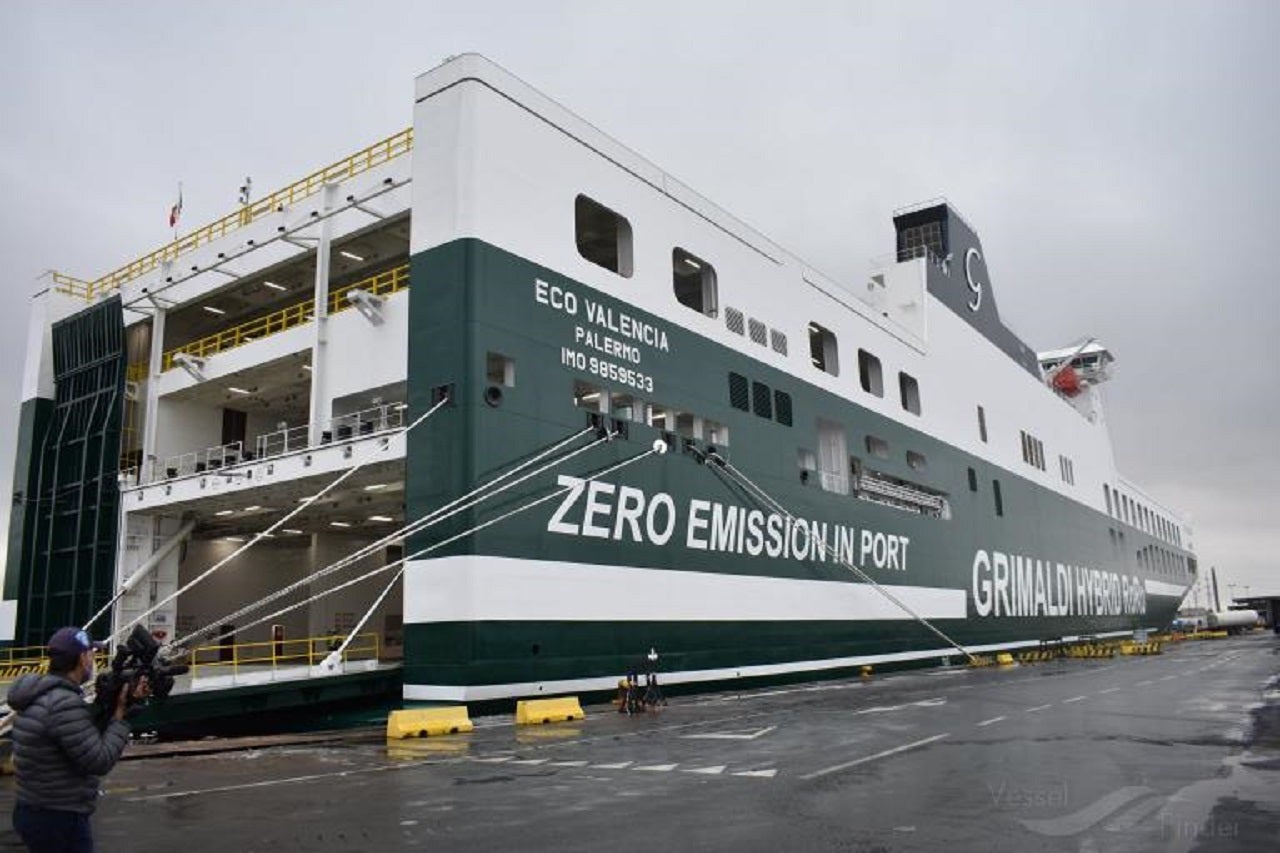 ECO Valencia, the first of the 12 hybrid vessels of the Grimaldi shipping company in the Green Generation class (GG5G), has arrived at the Port of Valencia in Spain.
The Port Authority of Valencia (PAV) will hold a reception for the Italian shipping company's ship on 24 November.
Grimaldi claims that ECO Valencia is the largest ro-ro ship in the world dedicated to short-sea shipping.
Grimaldi Group ordered the ship from the Chinese shipyard Jinling.
The 238m-long and 34m-wide ship has a gross tonnage of 67,311t, a cruising speed of 20.8 knots and can transport 7,800 linear metres of rolling goods.
Eco Valencia has also been awarded the 'Green Plus' class, the highest certification in the field of environmental sustainability, by the Italian Shipping Registry (RINA).
The Technical and Energy Saving Department of the Grimaldi Group, in collaboration with the Danish ship design studio Knud E Hansen, conceived the design of the GG5G class.
The new GG5G-class vessels are equipped with electronically controlled engines and exhaust gas purification systems for the purpose of reducing emissions in all forms.
Grimaldi Group CEO in Spain Mario Grimaldi said: "We are very happy to welcome this green building, unique in the world, sustainable, hybrid and low emission, to Spain. In a few weeks, Eco Barcelona will arrive to join the fleet operating between Spain and Italy.
"These ships are at the service of customers, transporters and car manufacturers, whom we thank for their support as with their trust they demonstrate responsibility for the environment. Operating in a sustainable manner is a priority for us and doing so in the Ports of Barcelona and Valencia is a demonstration of our commitment to this country."
PAV president Aurelio Martínez said: "The Eco Valencia is another demonstration that the Grimaldi Group is perfectly in line with the objective of decarbonising the Port of Valencia. We are meeting the same objectives and we are both very committed to the environment and to the EU directives that want to eliminate carbon from ports.
"We wish the Grimaldi company a lot of success and we share a very promising future for future generations. Furthermore, Valencia and its port community are grateful to the Italian Group for the fact that the first of twelve such important and ecological ships will bear the name of Eco Valencia and will call at our city."
Out of 12 hybrid vessels, nine will be operated in the Mediterranean Sea and another three will be deployed by the Finnlines company of the Grimaldi Group in Northern Europe.