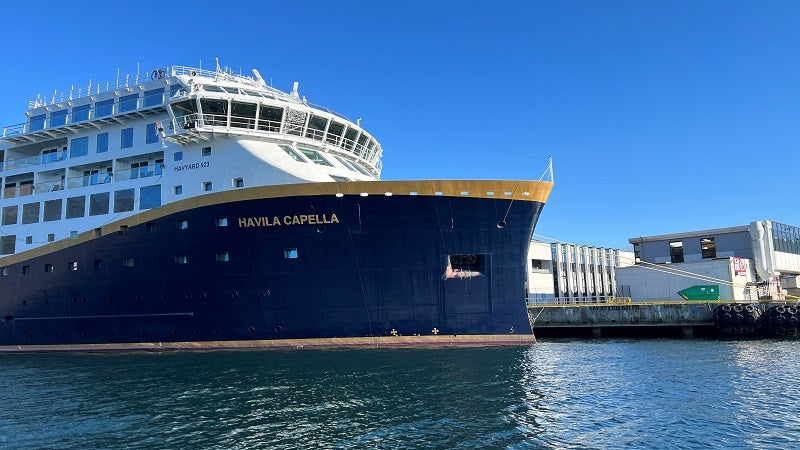 Understand the impact of the Ukraine conflict from a cross-sector perspective with the Global Data Executive Briefing: Ukraine Conflict
---
Havila Voyages has received an exemption from The Norwegian Government to operate its hybrid cruise ship Havila Capella for a six-month period.
Earlier this month, Havila Capella was put out of service due to its insurance being impacted by sanctions against Russia for its Ukraine offensive.
This decision was a result of its being funded through a leasing company in Hong Kong that is owned by Russia's GTLK.
In the six-month exemption period, the Norwegian shipping firm will work on refinancing the vessel, which operates between Bergen and Kirkenes, as well as changing its ownership.
The ultimate aim is to become 100% owned by Havila Kystruten Operations AS.
The dispensation from the Norwegian Ministry of Foreign Affairs has been granted in 'accordance with §21 of the regulations on restrictive measures regarding actions that undermine or threaten Ukraine's territorial integrity, sovereignty, independence, and stability'.
Speaking about the dispensation, Havila Voyages CEO Bent Martini said the decision confirms that the ship is not sanctioned and does not flout existing regulations.
However, he highlighted that certain suppliers ending agreements, having considered the vessel as sanctioned, presented a challenge.
Furthermore, the Ministry of Foreign Affairs stated that they have not taken a position on dispensation for insurance. The vessel's insurance will need a special dispensation upon application from insurance firms.
Martini said that the firm is optimistic about also receiving this exemption and having its insurance coverage reinstated.  
Havila Voyages operates four eco-friendly vessels on the Bergen to Kirkenes coastal route.
These vessels are equipped with the world's largest battery packs, which enable them to sail for four hours without emissions or noise.
They use natural gas when the batteries are low, reducing CO₂ by nearly 25%. The hulls of the ships are also designed to support optimum energy efficiency.