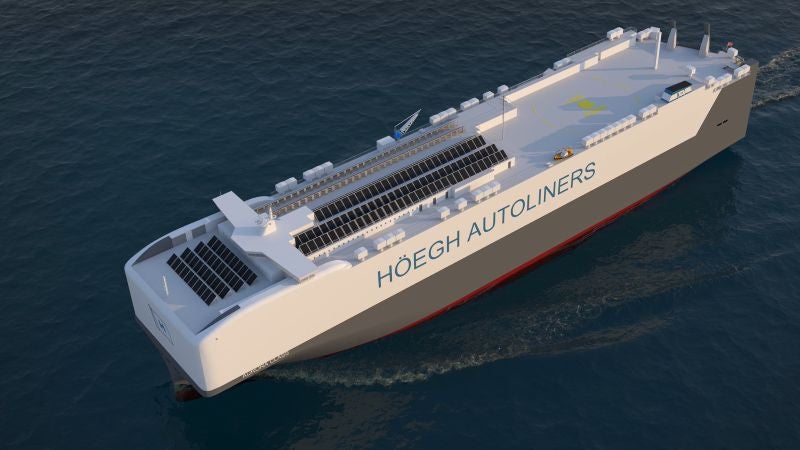 Höegh Autoliners has signed a contract with shipbuilder China Merchants Heavy Industry (Jiangsu) (CMHI) to procure four multi-fuel and zero-carbon ready Aurora class vessels.
The move comes after the companies signed a Letter of Intent (LoI) last year for the environmentally friendly vessels.
As agreed, CMHI will deliver the first two vessels in the second half of 2024, followed by two more in the first half of 2025.
The contract also includes options for eight additional Aurora class vessels.
The procurement is aligned with Höegh Autoliners' green transition strategy and will help to expand its fleet.
Höegh Autoliners chair Leif O Høegh said: "We are proud to partner with one of the largest and most reputable shipbuilders in China. The collaboration with China Merchants Industry represents a breakthrough in reaching our ambitious net-zero emissions target by 2040.
"The innovative design of the zero-carbon ready Aurora class will enable our customers to decarbonise their supply chain. Together with CMHI we are leading the way towards a net-zero emissions future for our industry."
The Aurora class will carry DNV's 'ammonia and methanol ready' notation.
The vessels are designed for cargo transport. With a capacity for carrying up to 9,100 cars, the Aurora class is said to be one of the largest and most sustainable car carriers in the world.
Additionally, the vessels will be equipped with a multi-fuel engine that can operate on marine gas oil (MGO) and liquefied natural gas (LNG). It can also run on future zero-carbon fuels, such as ammonia or methanol, with some modifications.
Höegh Autoliners CEO Andreas Enger said: "We are excited to partner with CMHI and secure the delivery of the world's largest and most environmentally friendly pure car and truck carrier (PCTC) vessels already by 2024.
"The Aurora class represents the future of our business. It will further strengthen our service offering, accelerate our path to zero and put us in the forefront of sustainable shipping."