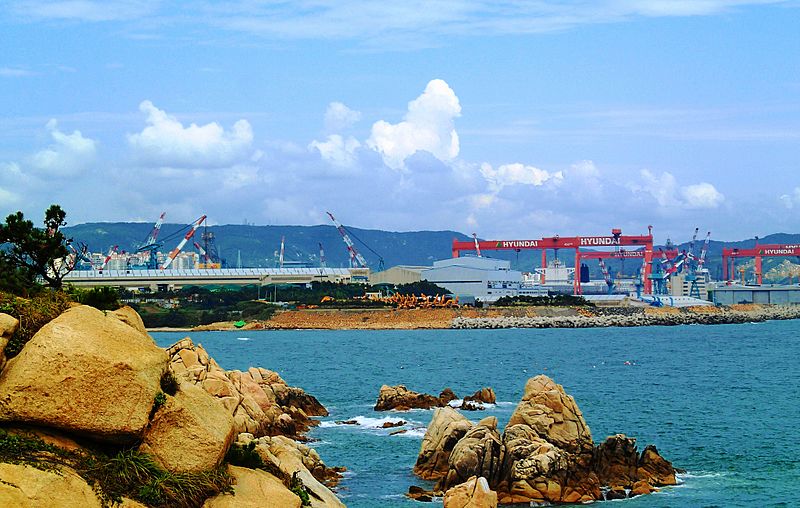 South Korean shipbuilder Hyundai Heavy Industries (HHI) has won a $390m contract from the European shipping firm to build two large liquefied natural gas (LNG) carriers.
Pursuant to the terms of the contract, HHI will build the two LNG carriers each measuring 299m-long, 48m-wide and 26.6m-tall.
The carriers will be constructed by Hyundai Heavy Industries' Ulsan Shipyard with delivery expected to start in 2022.
A Hyundai Heavy official told BusinessKorea: "Recently, we have been holding negotiations on LNG-related vessels such as LNG carriers, LNG-powered vessels, and LNG bunkering vessels as global environmental regulations will be strengthened.
"Shipbuilding orders are expected to increase thanks to the brisk US energy exports, China's eco-friendly consumption policy and large-scale LNG development projects by Qatar."
The company said that both the LNG ships will be equipped with its latest fuel-saving Mark III Flex Plus technology.
They will also be equipped with high-efficiency single-mixed refrigerant technology, which enables the reliquefaction of gas evaporated from the ships.
These new technologies will enable ship-owners to save $1m in fuel costs.
Along with two LNG carriers, HHI won orders for five LNG carriers this year.
Separately, two subsidiaries of HHI secured orders from anonymous clients to build a total of six tankers. Hyundai Mipo Dockyard has been awarded a contract to build four carriers for petrochemical products.
Hyundai Samho Heavy Industries will construct two crude oil tankers (COTs) with a capacity of 158,000t each.
For future deliveries, HHI is hopeful as the demand for the LNG-powered vessels is expected to increase due to the growing number for LNG development projects and energy exports.