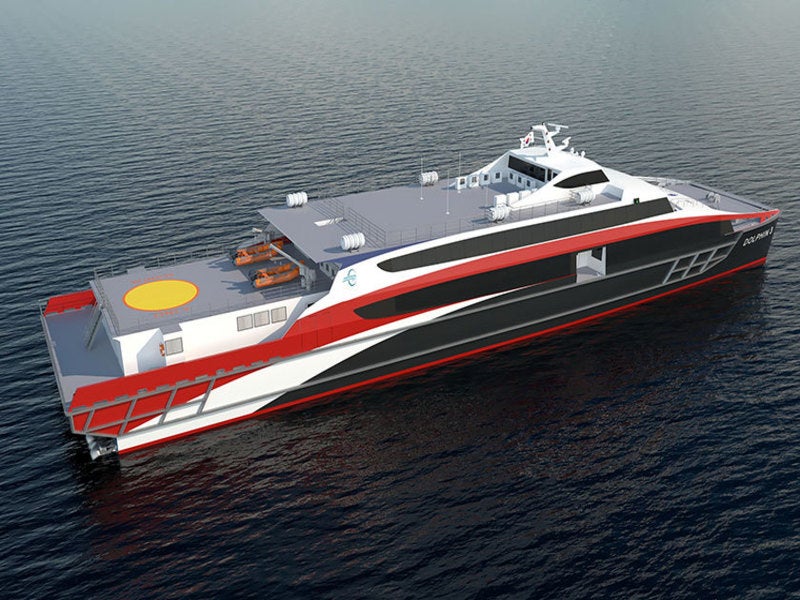 Australian naval architect and engineering service firm Incat Crowther has won a contract to design a new passenger ferry.
The catamaran will be 65m-long will be built by Khan Company of Geoje-si, Korea. It will be operated by Dolphin Shipping Company in Korea.
The new first locally built high-speed ferry will help connect Pohang, on mainland Korea and the island of Ulleung-do.
Incat Crowther will collaborate with Khan to develop the construction capability for aluminium high-speed light vessels.
Vessels will be built in accordance with IMO HSC Code and local Korean Register of Shipping (KRS) regulations.
Incat Crowther said that the 'technology transfer' is an important aspect of its design service.
The vessel has been temporarily named Dolphin 3, which will be able to accommodate around 710 passengers over two decks. The wheelhouse on the third deck will provide all-round visibility.
Additional features include wheelchair spaces on the main deck, a kiosk, luggage racks, crew accommodation module aft, a pair of four-person VIP rooms port and starboard.
Incat Crowther said in a statement: "Due to its size and excellent seakeeping characteristics, the Incat Crowther 65 will be more capable in rougher seas than existing boats on the run, dramatically improving on the number of days the service is run."
Dolphin 3 will feature quad 3,700kW main engines which will drive Rolls Royce Kamewa S80-4 waterjets. The vessel will operate at a speed of 39.5k per hour.
Recently, Incat Crowther launched its first hull in its shadow cat range. Named Hodor, the 66m catamaran features optimum-sized deck and storage space.