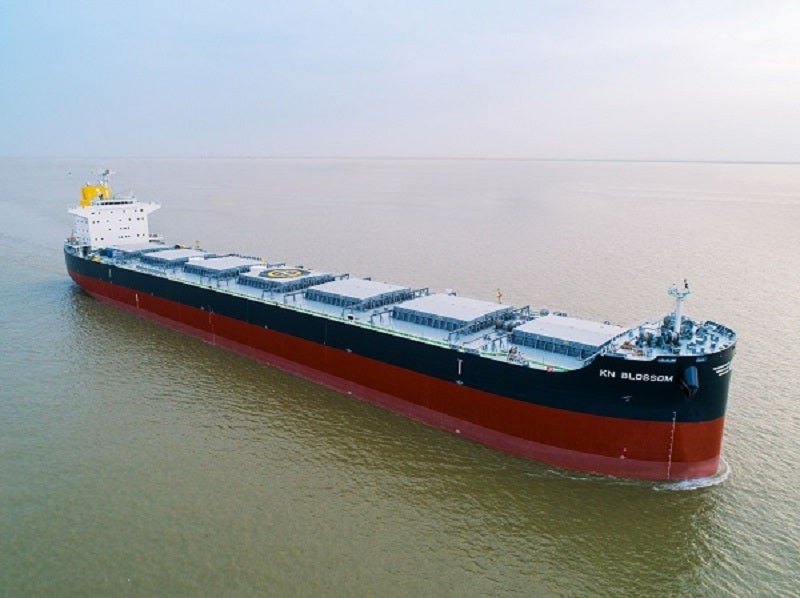 Japanese shipbuilder Kawasaki Heavy Industries (KHI) has delivered bulk carrier KN BLOSSOM for Kumiai Navigation at China's Nantong COSCO KHI Ship Engineering (NACKS).
NACKS is jointly run with China COSCO Shipping Corporation.
With an overall length of 228.9m, the vessel has a capacity of 82,000 deadweight tonnes (DWT) and gross tonnage of 44,375t.
It can accommodate 25 crew members and has an operating speed of nearly 14.2 knots.
KN BLOSSOM has a hold capacity of 97,760m³ and is equipped with a MAN B&W 6S60ME-C8.5 diesel engine.
The vessel has been classified by the American Bureau of Shipping (ABS) and is registered in Singapore.
It has been built to carry grains, coal and other products for which it has a flush deck with a forecastle and seven holds.
The bulk carrier features several technologies for maximum fuel economy, including an energy-saving, electronically controlled main diesel engine.
For improved propulsion performance, the ship features high propulsive efficiency propellers, the Kawasaki rudder bulb system with fins (RBS-F) and a semi-duct system with contra fins (SDS-F).
The vessel's exhaust gas outlets of the main engine and the power generation engine have been fitted with a set of SOx scrubber for removing sulphur oxide.
This will enable the vessel to comply with new restrictions on sulphur oxide emissions that were introduced by the International Maritime Organisation (IMO) in January last year.
In addition, the new system will facilitate the use of general high-sulphur fuel oil that can possibly cut down fuel oil costs.
With these technologies, the vessel will also fulfil the phase two requirements of the Energy Efficiency Design Index (EEDI).
Last month, KHI supplied the bulk carrier NAVIOS AMITIE at NACKS for Indigo Marine Shipping.