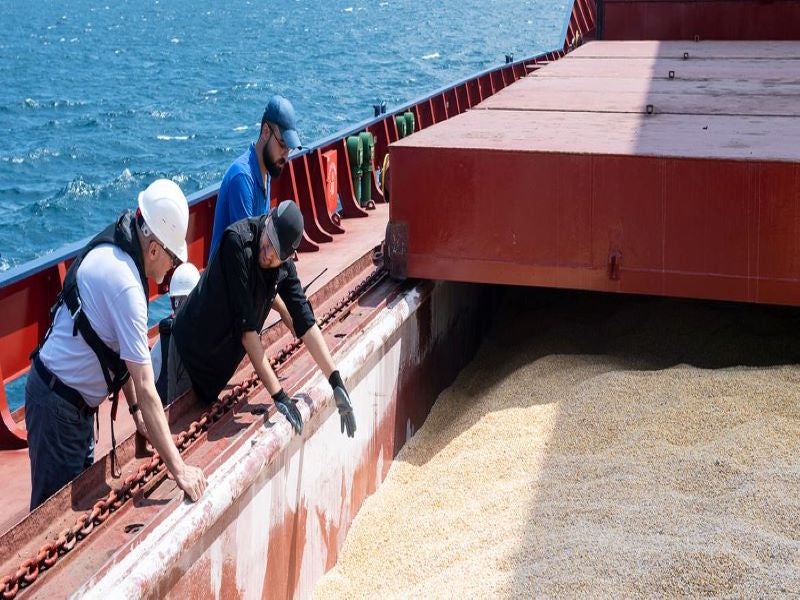 Understand the impact of the Ukraine conflict from a cross-sector perspective with the GlobalData Executive Briefing: Ukraine Conflict
---
The Joint Coordination Centre (JCC) has approved the departure of three ships loaded with grain from Black Sea ports in Ukraine.
Based in Istanbul, the JCC has been established by representatives from the governments of Ukraine, Russia and Turkey, under the guidance of the United Nations, to enable grain exports.
It will focus on the safe transportation of grain and other food materials, as well as fertiliser, through the important Ukrainian ports of Odesa, Chernomorsk and Yuzhny, which are located in the Black Sea.
As part of the Black Sea Grain Initiative, two vessels from the Port of Chornomorsk and one from Odesa will depart via the designated 'maritime humanitarian corridor', carrying a total of 58,041t of corn.
The merchant ship anchored at the Chornomorsk port, Polarnet, will carry 12,000t of corn to Karasu, Turkey.
Another ship anchored at the port, Rojen, will carry 13,041t of corn to Teesport, UK, while the Navistar ship anchored at Odesa will deliver 33,000t of corn to Ringaskiddy, Ireland.
Subject to inspection, the JCC has also approved the departure of the merchant vessel Fulmar S for Chornomorsk.
The ship is currently anchored at the inspection area near north-west Istanbul, Turkey.
In a statement, the JCC said: "The three outbound vessels are estimated to depart in the morning from their respective ports.
"Timings may be affected based on readiness, weather conditions or other unexpected circumstances.
"Inspection is expected to take place after arrival at the anchorage area in Turkish territorial waters."
Earlier this week, Sierra Leone's Razoni cargo ship departed from the Port of Odesa carrying grain under the Black Sea Grain Initiative.
The ship is due to arrive in Tripoli, Lebanon, and is the first vessel to leave one of the Black Sea ports since 26 February, shortly after Russia's invasion of Ukraine began.