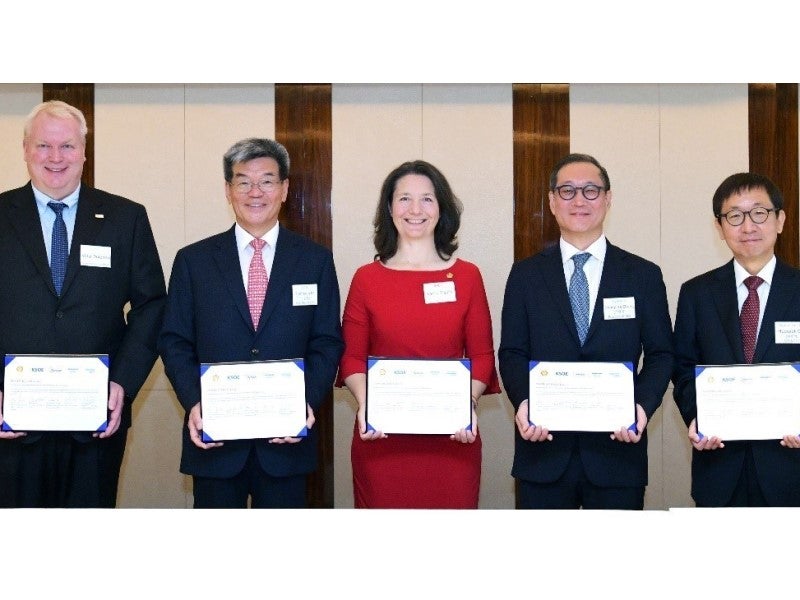 Korea Shipbuilding & Offshore Engineering (KSOE), a unit of the Hyundai Heavy Industries (HHI) Group, has reached a consortium agreement for the demonstration of fuel cell-applied ship operation.
Along with consortium partners Shell, Doosan Fuel Cell, HyAxiom and DNV, the company will conduct a demonstration project that will focus on applying fuel cells to large vessels.
HHI Group will use a 600KW high-efficiency Solid Oxide Fuel Cell (SOFC) for power generation on a 174,000m³ liquefied natural gas (LNG) carrier that will be operated by Shell from 2025.
Using the results of the project, the company will also be involved in the development and supply of eco-friendly ships that can apply fuel cells to propulsion power sources in the long term.
Fuel cells will be used as an auxiliary power unit (APU) by the LNG carrier to carry out its demonstration for one year on the actual trade route.
Using its expertise in shipbuilding, HHI Group will construct a ship, design and install the SOFC placements, and integrate the ship system.
Doosan Fuel Cell and HyAxiom will design and supply fuel cells for the ship, while Shell will manage and operate the ship as well as the demonstration project.
DNV will carry out inspections of the structure and equipment of the demonstration ship for accreditation registration.
To support shipping decarbonisation, the International Maritime Organisation (IMO) has launched environmental regulations to bring about a 50% decrease in greenhouse gas emissions, compared to 2008 levels, by 2050.
KSOE CEO and vice-chairman Samhyun Ka said: "The shipbuilding and shipping industries are experiencing rapid innovations environmentally friendly and digitally.
"We expect to preoccupy next-generation eco-friendly ship technologies and speed up marine decarbonisation through this fuel cell-applied ship demonstration."
In addition to this agreement, HHI Group is also engaged in the development of its own SOFC technologies to advance fuel cell development projects.