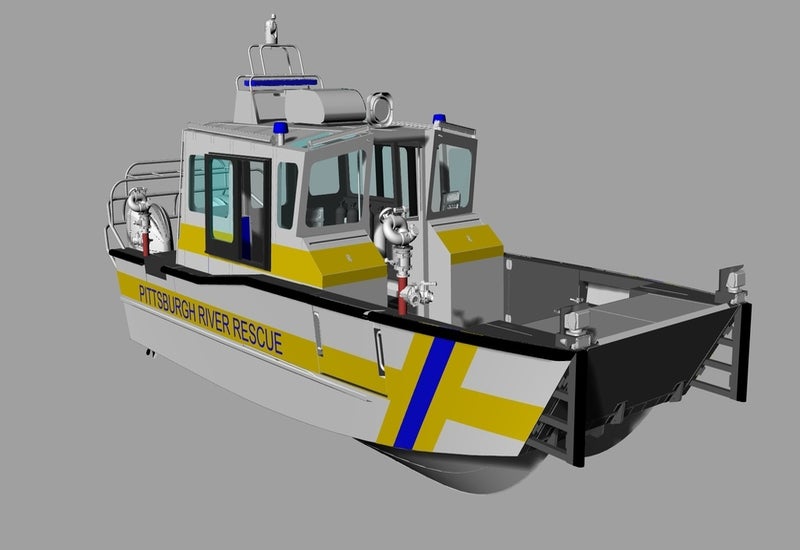 Lake Assault Boats has been awarded a contract to build a patrol and emergency response craft for Pittsburgh River Rescue unit.
Claimed to be the most powerful rescue boat in Lake Assault Boats' history, the 30ft-long EMS river rescue vessel is expected to be delivered by this autumn.
The boat will be deployed to carry out rescues in response to water emergencies, administer advanced life support (ALS) services, help in fire-fighting operations, and provide security for the nation's second largest inland port.
Lake Assault Boats operations vice-president Chad DuMars said: "This is our second craft for the city of Pittsburgh in the past three years, and we're thrilled to receive this vote of confidence from a city known for its vital waterways and iconic riverfront.
"This custom craft features fast response combined with a full toolbox of capabilities to address a wide range of emergency scenarios."
The boat features a catamaran style hull for improved stability and manoeuvrability. It is equipped with two Yamaha 425 hp outboard engines for maximum response time.
Yamaha's Helm Master joystick steering and digital anchoring system has been installed on the boat to control slow-speed manoeuvring.
The craft also includes a 74in hydraulically operated bow door, a heated front deck, as well as dive step cutouts. In addition, it can deploy a SWAT team and its equipment, including an ATV vehicle.
In addition, the vessel carries an ALS squad on-board and is fitted with the same medical gear found on a traditional ambulance.
The ship also features a 10ft-long, fully enclosed pilothouse with an 80in interior clearance height that provides sufficient room to treat patients.
Furthermore, the boat will carry chart plotter, HD radar, sonar, and a forward-looking infrared (FLIR) system, which will be managed using two Garmin touchscreens.