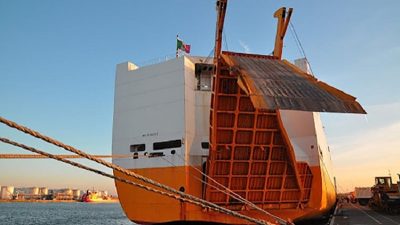 Cargotec's marine cargo handling business unit MacGregor has won roll-on/roll-off (RoRo) ships equipment orders for eight vessels.
The combined value of the orders stands at around $35.96m (€31m).
MacGregor stated that the order intake, worth $10.44m (€9m), will be recorded in Cargotec's Q2 2021, while the orders worth $25.52m (€22m) will be included in Q3 2021.
The RoRo vessels will be built in Asia.
The deliveries will begin in Q2 2022 and are expected to be completed in Q3 2023.
MacGregor will supply quarter and side ramps, hoistable car decks and rampway doors for the RoRo vessels.
MacGregor merchant solutions division senior vice-president Magnus Sjöberg said: "We have been able to build strong and valuable relationships with these customers over a number of years, and are delighted to be able to enhance our cooperation through these new orders."
Last month, MacGregor secured orders from Integrated Wind Solutions subsidiary Awind to deliver equipment packages for two new commissioning service operation vessels (CSOV).
These ships are to be built at the China Merchants Heavy Industry (CMHI) shipyard in Nantong and delivered during Q1 and Q2 2023.
Each equipment package will include a 3D motion compensated electrical gangway system, Colibri crane and remote-control station located on the vessel bridge.
Furthermore, Awind signed option agreements for up to four more vessels.
In March, MacGregor received a new equipment order for four vessels, which will be built for Nippon Yusen Kaisha at the China Merchants Jinling Shipyard.
The deliveries are expected to start in Q4 2022 and complete in Q4 2023.