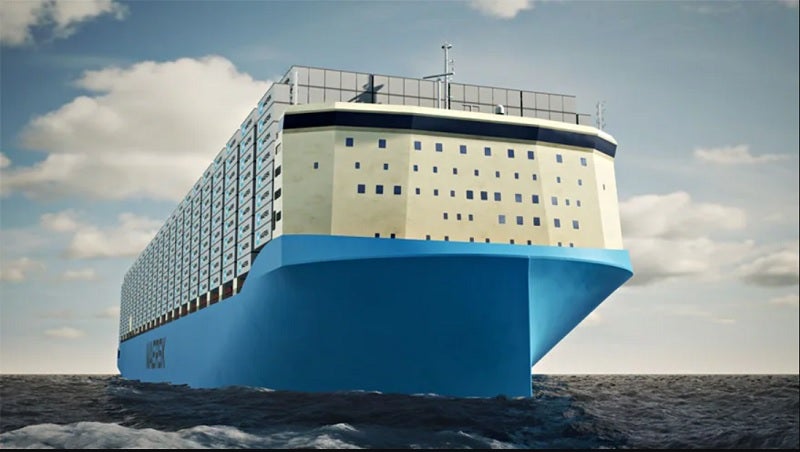 Denmark's container shipping company Maersk has revealed the design for its eight new large container ships that will operate on carbon-neutral methanol.
The 16,000 twenty-foot equivalent unit (TEU) container ships will be 350m long and 53.5m wide.
To provide additional container capacity, the crew accommodation and bridge will be situated at the bow.
The accommodation and funnel, which will be in the aft and to one side of the ships, will be separate.
This will offer extra cargo space and increased efficiency when at ports.
In comparison with the industry average for ships of this size, the design will enable a 20% enhanced energy efficiency for each transported container.
According to Maersk, together the eight vessels are projected to save nearly one million tonnes of carbon discharges annually.
The newbuilds will also support carbon-neutral transportation at scale for marine trade.
The blueprints were developed over five years with input from experiments with new design features.
In a statement, Maersk said: "To enable this new design, several challenges had to be addressed. Firstly, crew comfort had to be ensured with the accommodation placed in this more exposed location. Moreover, adequate hull strength was also a key parameter to safeguard, with the accommodation block normally working as a hull 'stiffener' when placed further backwards."
The design covers new arrangements for lifeboats and navigational lights, along with new cameras to aid the captain's view when sailing.
To be constructed by Hyundai Heavy Industries, the ships will be loaded with a dual-fuel engine setup that will have the capacity to run on methanol as well as conventional low-sulphur fuel.
The ships will be able to finish a whole round-trip on green methanol with fuel capacity.
The first ship is slated to commence services at the beginning of 2024.
In August, AP Moller-Maersk became a member of the Low Carbon Charter, launched by the Hong Kong Business Environment Council (BEC).