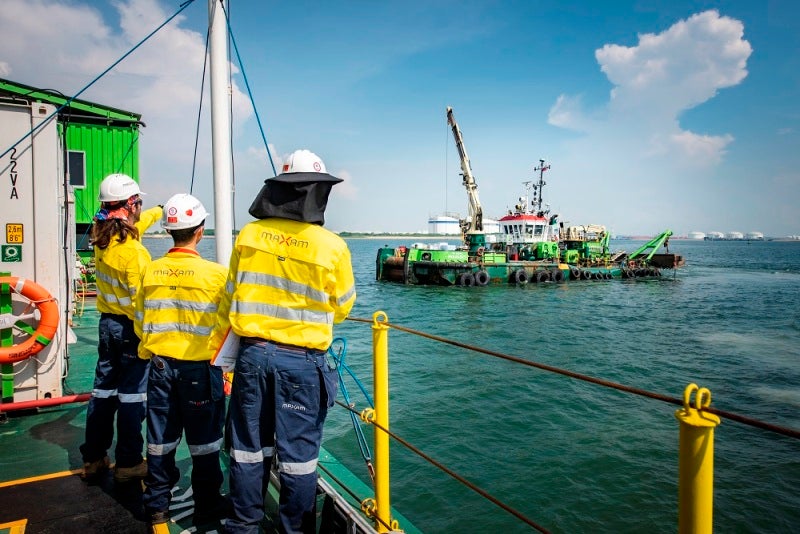 Technology company Maxam has completed underwater blasting for the extension of Singapore Port with the support of Asia Tunneling & Construction.
DIAP-Daelim joint venture (DDJV) has won the port extension project, and the operation involves the reclamation of 294ha from the sea for the construction of a 9km quay with a capacity of around 20m TEW per year.
One of the critical components of the work has been the dredging of a new navigation channel. Part of the work has been carried out with underwater blasting.
Maxam has worked with DIAP in the design and execution of over 100 blasts and nearly 1,000t of Rioflex to fragment the hardest rock.
The company performed the detonations at depths ranging from 15m to 25m. It has also supplied explosives from its plant in Malaysia.
Maxam Terra Solutions general manager Ramón Paramio said: "This project demonstrates the confidence that leading international infrastructure companies have in MAXAM as a strategic technological partner for their projects.
"In recent years we have become the benchmark in underwater blasting thanks to our experience in projects around the world and our technical service and technological expertise.
"This project is also yet another step in our growth in Asia, where we are already operating in countries such as Russia, Kazakhstan, Mongolia, Malaysia and the Philippines, among others."
Singapore is also involved in the construction of a new cargo port to strengthen its position as a strategic hub for international trade.
It is developing a hyper-modern, innovative, automated facility that will have a 65 million twenty-foot equivalent unit (TEU) capacity per year.
Maxam has developed the latest technology for loading systems and high-energy explosives that offer excellent underwater results.
The company has built a Rioflex matrix plant in Malaysia to ensure a constant supply for the operation.
Maxam's engineering teams collaborated with the client to develop the loading systems built into the drills, increasing safety and productivity.
The company also had to ensure the vibration limits were within limits specified by the Singapore port authorities to protect nearby structures.
Maxam conducted more than 100 blasts and used around 1,000 tonnes of Rioflex during the operation.