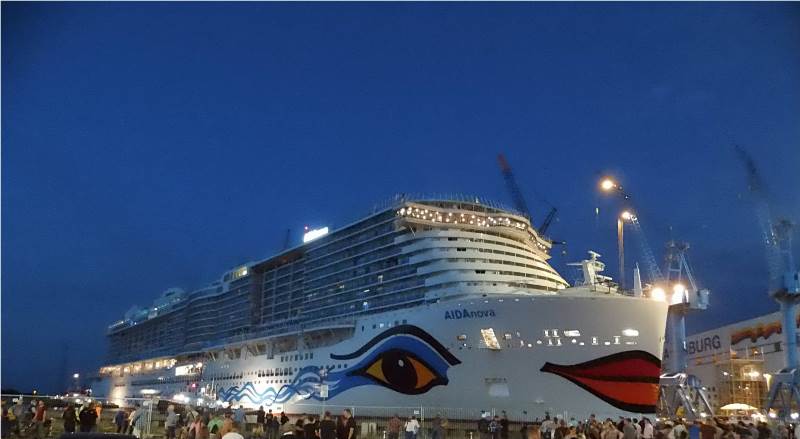 Meyer Turku shipyard in Finland has begun construction on Costa Toscana, the second ship to be powered by liquefied natural gas (LNG), for Costa Cruises.
Costa Toscana is the second of two ships ordered by Costa Cruises, the Italian brand of leisure travel company Carnival Corporation.
The ships can be powered in port and at sea by LNG. The first ship, Costa Smeralda, is nearing completion and will enter service in October. Costa Toscana is expected to be delivered in 2021.
After the launch of the world's first LNG-powered cruise vessel AIDAnova in 2018, Carnival has an additional ten 'green' cruise ships on order, which are expected to be delivered between 2019 and 2025 for AIDA Cruises, P&O Cruises (UK), Carnival Cruise Line and Princess Cruises, in addition to Costa Cruises.
Costa Smeralda and Costa Toscana are part of a strategic plan to reduce the carbon footprint defined by Carnival's 2020 sustainability goals and implemented by Costa Cruises and the company's eight additional brands.
With a gross tonnage of more than 180,000 and over 2,600 staterooms on each ship, the two new vessels are part of the Costa Group's fleet expansion plan, which includes seven new ships scheduled to enter service by 2023.
Costa Group includes the brands Costa Cruises, Costa Asia and AIDA Cruises. Following the launch of AIDAnova, the company launched Costa Venezia, the first ship designed for the Chinese market, in February 2019.
Costa Toscana and Costa Smeralda are named after Tuscany and Costa Smeralda, which are popular tourist destinations in Italy.
All decks and public areas on Costa Smeralda are named after and designed based on Italian places. The food and wine will feature fine Italian culinary traditions.
The ship will have 11 restaurants, including one for casual family dining, 19 bars, a spa area with 16 treatment rooms, waterpark with waterslides, four pools and a facility for kids.
Costa Smeralda will also feature the CoDe Costa Design Museum, which will showcase Italian design.
It is set to begin operations in October, with a 15-day preview cruise from Hamburg to Savona.
The company will deploy Costa Smeralda in the Western Mediterranean in April 2021 on one-week cruises porting in Savona, Marseille, Barcelona, Palma de Mallorca, Civitavecchia and La Spezia.