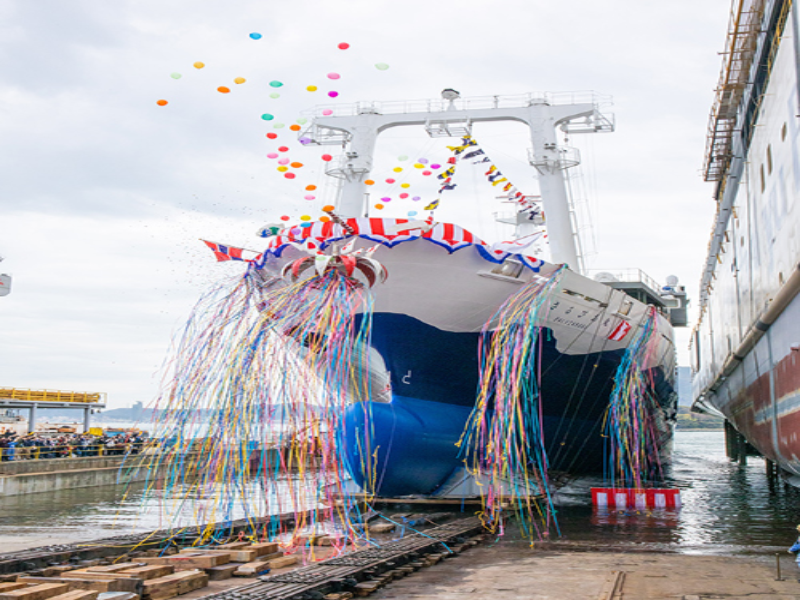 Japanese shipbuilder Mitsubishi Shipbuilding has held a christening and launch ceremony for freight and passenger transporter Tokai Kisen's cargo-passenger ship.
Currently under construction, the new ship will be named Salvia Maru and will be a successor of an old ship with the same name.
Following the completion of rigging work, the ferry will be delivered to the customer in June 2020.
The ferry will also operate on regular routes, connecting Tokyo with the Tokyo Islands of Oshima, Shikineshima, Toshima, Niijima and Kouzushima.
The new Salvia Maru ship is a joint construction project of the Japan Railway Construction, Transport and Technology Agency (JRTT). JRTT and Tokai Kisen will collectively own the vessel.
The 6,200t heavy ship with a length of 118m and a width of 17m will be able to sail at a speed of approximately 20 knots (k). It can accommodate approximately 1,343 passengers and 38 cargo containers.
This ship will feature variable pitch propellers and azimuth propellers, which can rotate horizontally at 360°.
The ship design is based on the concept of 'connections', with the idea of sea voyages connecting people, cities and the mainland with islands.
In a statement, Mitsubishi Shipbuilding said: "As an eco-friendly ship, the Salvia Maru offers stable operation and improved energy efficiency, as well as a reduced environmental load and barrier-free accessibility."
Last month, Mitsubishi Shipbuilding received a contract from Japan-based marine transportation company Shin Nihonkai Ferry for two large, high-speed ferries that will be 222.5m-long, 25m-wide and 20.4m-deep.
In September, MISC Berhad (MISC) signed an agreement with Japanese firms Mitsubishi and Nippon Yusen Kabushiki Kaisha (NYK) to co-own two newbuild liquefied natural gas (LNG) vessels for the LNG Canada project.