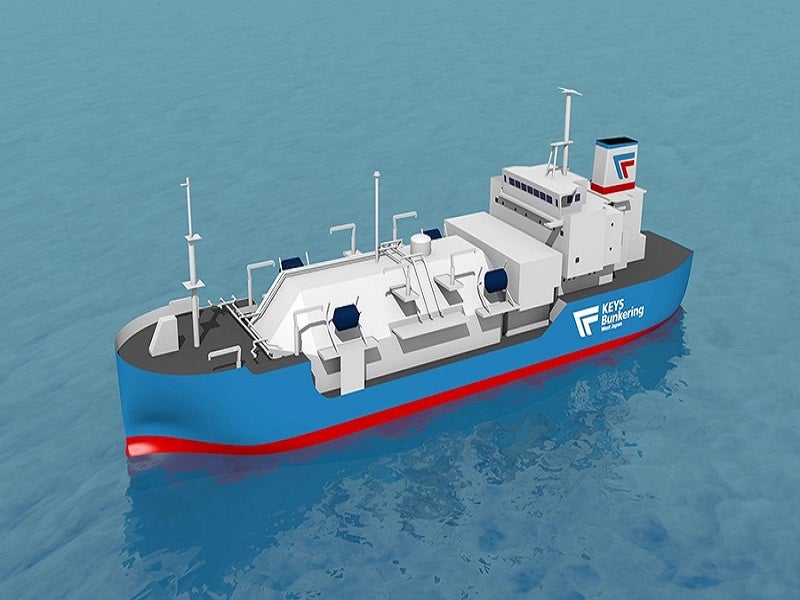 Mitsubishi Shipbuilding, part of Mitsubishi Heavy Industries (MHI), has secured a contract from KEYS Bunkering West Japan to build a liquefied natural gas (LNG) bunkering vessel.
Claimed to be the first vessel of its kind to operate in western Japan, the LNG bunkering vessel will be constructed at the Enoura Plant at MHI's Shimonoseki Shipyard and Machinery Works in Yamaguchi Prefecture.
Mitsubishi is planning to complete and deliver the vessel by March 2024. The LNG bunkering vessel will be used to supply LNG to LNG-powered vessels.
The new vessel will feature an electric main engine as well as a dual-fuel engine that will use both LNG and heavy oil as fuel.
It is expected to reduce emissions of carbon dioxide (CO₂), nitrogen oxide (NOx), sulfur oxide (SOx) and particulate matter (PM) when operating in gas mode.
With a gross weight of 4,850 tonnes, the new LNG vessel will have an overall length of 82.4m and tank capacity of 3,500m³, as well as a beam of 18.2m and draft of 4.8m.
In a statement, Mitsubishi said: "The use of LNG propulsion for ships is attracting attention as a solution for compliance with regulations aimed at reducing greenhouse gas (GHG) emissions."
Last February, Kyushu Electric Power, Nippon Yusen Kabushiki Kaisha (NYK) Line, ITOCHU ENEX and SAIBU GAS established KEYS Bunkering West to deliver LNG fuel for ships in the Kyushu and Setouchi Regions.
Earlier this month, Mitsubishi Shipbuilding carried out a christening and launch ceremony for the first LNG-powered ferry being built for Mitsui OSK Lines (MOL).