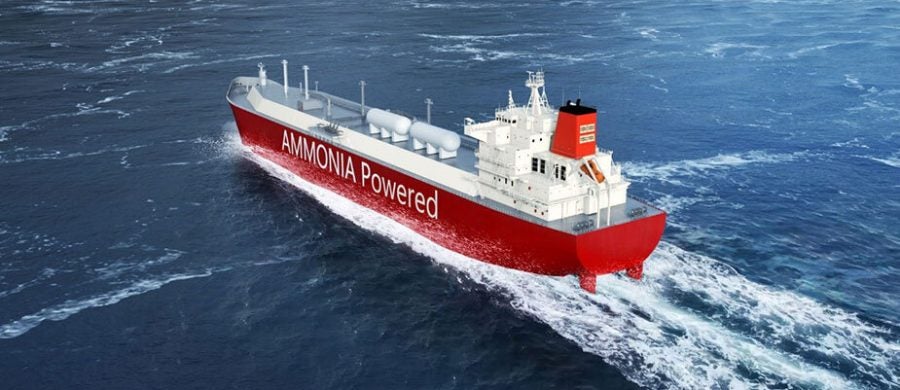 Mitsui OSK Lines (MOL) has entered into an agreement with Namura Shipbuilding and Mitsubishi Shipbuilding to jointly develop a large-size ammonia carrier that will operate on ammonia fuel.
Being a clean source of energy, ammonia is projected to witness a growth in demand in the near future.
In Japan, the yearly demand for ammonia is predicted to reach three million tonnes by the year 2030 and 30 million tonnes by 2050, stated MOL.
Considering this, MOL will work on the development of a large-size ammonia carrier, with the aim of providing 'safe, high-quality and reliable' transport of the green energy fuel.
Besides this, the company will also focus its efforts on transitioning to the usage of ammonia as a vessel fuel.
The aim is to introduce net-zero emission ocean-going ships in the 2020s and reach net-zero greenhouse gas (GHG) emissions by 2050, as mentioned in the MOL Group Environmental Vision 2.1.
Furthermore, the Japanese company will draft a collaborative framework with the shipbuilding companies for the order of the vessel's primary engine, which is currently being developed.
The engine will be driven by ammonia as its main fuel.
The new large-size ammonia carrier will incorporate an ammonia-powered main engine that will minimise GHG emissions from MOL-operated ships.
In a separate development, MOL, along with Mitsubishi Shipbuilding, concluded the concept study of several hull forms for a liquefied CO₂ (LCO₂) carrier.
LCO₂ carriers are expected to contribute to the carbon dioxide capture utilisation and storage (CCUS) value chain in the upcoming years.
In order to adjust to the volume of cargo transported, the overall cargo tank capacity was designed up to around 50,000m³ while considering different tank pressure settings.
Furthermore, in September, MOL and Marubeni entered into a memorandum of understanding with the Ministry of the Russian Federation to conduct a joint study to build, operate and use a dual-fuel methanol carrier.