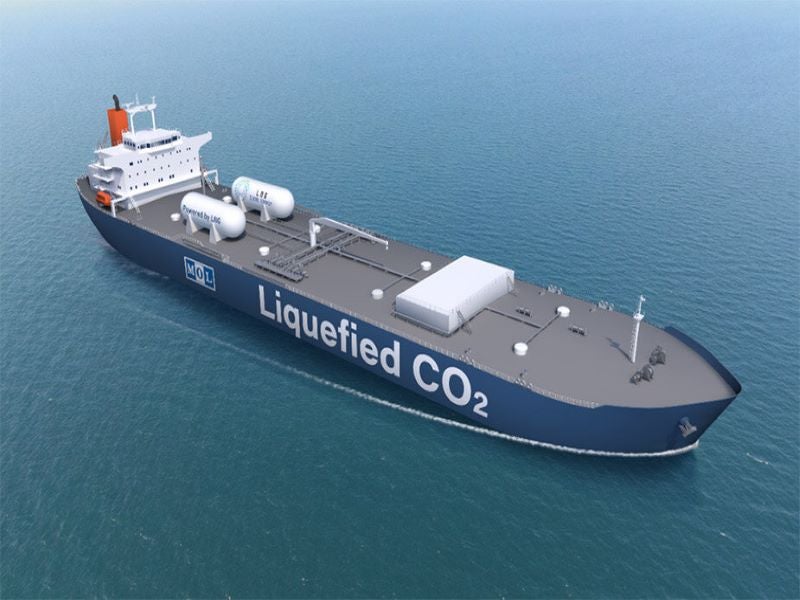 Nippon Kaiji Kyokai (ClassNK) has granted approval in principle (AiP) to the design of a large-scale liquefied carbon dioxide (CO₂) carrier from Japanese firm Mitsui OSK Lines (MOL).
Last June, the shipping company embarked on a research and development (R&D) programme for the use of a large-scale liquefied CO₂ carrier.
The programme was announced in reply to a call for proposals by Japan's New Energy and Industrial Technology Development Organisation (NEDO) to conclude the conceptual design under a project assigned by NEDO to Japan CCS.
The vessel design is said to be one element of NEDO's 'CCUS R&D and Demonstration Related Project/Large-scale CCUS Demonstration Project in Tomakomai/Demonstration Project on CO₂ Transportation'.
According to the company, the large-scale liquefied CO₂ carrier is expected to meet the requirements of long-distance transport of CO₂ on a scale of one million tonnes each year. This estimate is based on NEDO's aim to deploy carbon capture, utilisation and storage (CCUS) technology.
MOL has set a 2050 target for net zero greenhouse gas (GHG) emissions and revealed five strategies to help reach that goal.
The firm also plans to advance its liquefied CO₂ transport initiative through the R&D in this demonstration project.
Earlier this month, MOL joined forces with Japan's National Institute for Environmental Studies (NIES) to begin a joint study on marine fuel.